TREND Ducerf wood cladding is making its way into our interiors
2022.10.12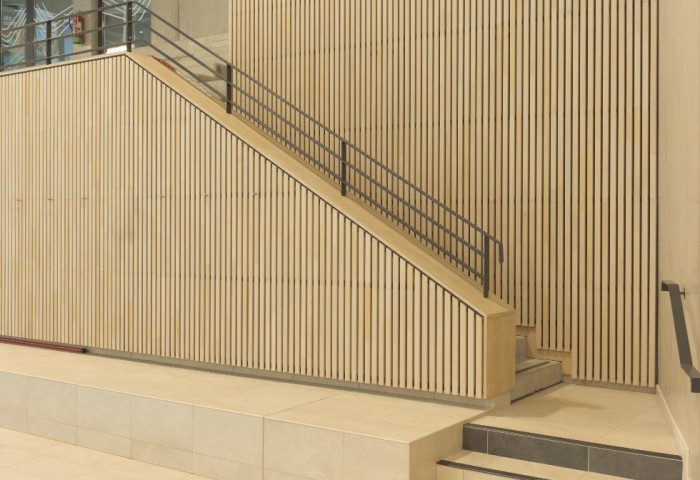 Ducerf wood cladding is making its way into our interiors: a rising trend... with innovation at its core!
If it was until now reserved for exterior facades, wood cladding is now inviting itself in our interiors. The trend is driven by the increasing number of architects who want to integrate a wooden wall cladding on an interior wall or ceiling. Since the beginning of 2022, the demand for this type of diversion has even increased fourfold. Faced with this expectation, the Ducerf group innovates and responds with the advantages of wood: natural, aesthetic, technical and made-to-measure!
From exterior to interior wood cladding
This trend of interior wall cladding has gradually taken hold. Carole Debize, marketing manager for the Ducerf Group, has seen the phenomenon grow in recent months: "Since the beginning of the year, the number of requests for interior design products has increased significantly. It has increased fourfold. We realised that customers who were used to using our cladding outdoors thought that they could use it indoors. In this way, specifiers want to create something unique.
The new french environmental regulations are probably also behind this trend: "All our hardwood products are benefiting from the dynamics of the "RE 2020". There is a real craze for natural, ecological and bio-sourced materials. With wood, projects gain in coherence by associating aesthetics and environmental approach. For Carole Debize, "Ducerf has the intention to continue to accompany its partners in this trend in the long term. A demand expressed mainly today by interior designers and architects.
This diversion of exterior wood cladding has, for example, been successfully experimented with by an architect from Charente-Maritime, Emeline Poulain. She covered a whole section of the wall of her house to ensure aesthetic continuity with the exterior while providing an impression of warmth and comfort. She now appreciates the graphic aspect of her wall with the cladding, which also gives an impression of height and relief.
Bring in wall cladding to express your creativity!
Wooden wall cladding gives architects and builders plenty of scope for creativity. The material is the perfect answer to the search for a new interior aesthetic. Prescribers appreciate the naturalness of wood. It allows for the creation of warm and characterful atmospheres. Some will choose raw finishes while others will prefer a more decorative look. Thus, there is a tendency to multiply the uses. If interior cladding has been used on the wall of a living room or bedroom, it has also been used on ceilings in a school or a shop, for example. Wooden cladding can also be used to delimit spaces without partitioning them. There are no limits to creativity. The user can also decide to apply a varnish or a particular colour. The material offers a great deal of freedom in terms of aesthetics.
In interiors, wood cladding is also capable of creating a different atmosphere. An interior wall cladding made of wood creates an amazing play of light and shadow with an atmosphere that changes throughout the day depending on the orientation of the sun. Again, architects can have fun with these light effects.
"There is a different sound to the rooms, with less resonance and the impression of a relaxing space."
Wooden cladding interior offers advantageous technical and aesthetic properties
The range of wood cladding proposed by Ducerf offers many technical advantages perfectly adapted to an interior use. For Thibault Chastagnier, manager of the 2nd transformation division, this is explained by the fact that "exterior cladding is much more demanding in terms of performance. According to him, "it has to resist bad weather, insects, fungi, etc." The durability of the material is also important. "We have developed hardwood cladding with naturally durable species and species such as ash or poplar that we have been able to enhance thanks to high-temperature treatment. As these woods are less stressed inside a building, they are perfectly suited to these new uses.
Wood offers a wide range of colours, and each species has its own chromatic range. Carole Debize points out that the high-temperature treatment of hardwoods makes it possible to extend this choice of colours even further: "A poplar treated at high temperature will, for example, take on a much darker and warmer colour, a chocolate shade. And indoors, the wood will not turn grey as it might outdoors. The colour will not change much. "Those who make the choice to use cladding as a decorative element will do so."
No chemicals are added to these products, so they can be used inside the house as well. Moreover, indoors, wood cladding is virtually maintenance-free.
The high-temperature treatment is also of interest when you want to install an interior wall cladding in a wet room: "In a bathroom, for example, the high-temperature treatment has the advantage of improving the dimensional stability of the wood and therefore guarantees greater reliability of the cladding in the long term.
Interior wood cladding, combined with other insulation solutions, can also meet acoustic needs. Thibault Chastagnier notes this in particular for ceiling applications: "What will bring this acoustic aspect is the combination of insulation with cladding. The air gaps let the sound escape into the sound insulation. The rooms sound different, with less resonance and the impression of a relaxing space.
Finishes to improve the fire reaction of wood cladding
Ducerf can also respond to a major challenge for wood: fire regulations. The question arises in particular for collective housing or establishments receiving the public. Thibault Chastagnier can reassure specifiers on this point: "There are finishes to improve the reaction to fire of wood cladding, these are the intumescent finishes that prevent any fire outbreak. Thanks to the work of one of our partners, we can supply boards that have already been given this finish to meet the regulatory requirements. For example, this finish was applied to the Palestra aquatic centre in Chaumont. This public venue required a solution that offered both high aesthetic added value and an effective response to regulatory constraints in terms of fire resistance.
Tailor-made cladding and easy to install
For all fitting-out projects, wood has the advantage of being able to be made to measure. The Ducerf Group's cladding is made of solid wood and can be finger-jointed, particularly to meet long length requirements. For Carole Debize, "the objective is to be able to adapt to the customer's project". Through its design office, Ducerf can respond to projects requiring different widths and lengths of boards. Thibault Chastagnier explains that "it is the finger-jointing, that allows us to recreate large boards". He adds that "this avoids any loss and allows very precise layout of each element". This is a valuable aid for the carpenters who carry out the installation. In terms of length, it is possible to offer boards of up to 6 metres.
Ducerf can also respond to very specific requests, as was the case for the construction of a high school. This was the case for a high school (Chaumont 70), where a solid oak ceiling cladding had to be made without visible fixings. The cladding had to be removable. Thibault Chastagnier remembers that "the design office proposed a precise layout with perfectly invisible fixings".
Finally, both inside and outside, wood cladding is very easy to install on battens. Thibault Chastagnier realises how much "the prefabrication aspect and speed of execution appeal to architects and project managers. It is therefore possible to hand over finished spaces to a client much more quickly than with traditional plasterboard, for example, for which there are many more stages in the implementation. Emeline Poulain immediately noticed this ease of execution when installing her ash cladding: "We almost had the impression that we weren't using wood because it was so easy. We saved a lot of time!
"We wanted to offer a differentiating and inspiring solution by investing more in the decorative aspect of interior wall cladding."
Ducerf reveals its first range of interior wall cladding
To meet the expectations of its customes, Ducerf wanted to provide them with a more complete offer. For Carole Debize, "the idea was very quickly to enlarge our technical and decorative offer. We wanted to offer a differentiating and inspiring solution by investing more in the decorative aspect of interior wall cladding. The group therefore developed a wall cladding solution dedicated to interior design, a new decorative product unveiled at the Architect@Work show in September 2022: BARD 107 texture. In contrast to the smooth rendered cladding products offered until now, this new product offers a pattern inspired by the movement of waves, both decorative and soothing.
To enable this development of the interior cladding range, the company invested in a brand new moulding machine. For Thibault Chastagnier, the choice of this digital machine was "to demonstrate the responsiveness of the Ducerf group". This moulding machine should allow for very rapid series changes and pointing changes. Its role is to profile the boards and to provide them with a structured surface finish, which is a new feature. It can, for example, create undulations on the wood as for the BARD 107 texture. The moulder is used to profile decking and cladding boards, and a cutting option has been added. These are notched knives developed in-house to create the desired pattern, a personalised and unique pattern for a unique surface finish. Thibault Chastagnier explains that on this moulder, there are both knives that will plane and calibrate the material and knives that will oscillate to structure the surface. "This new tool is a great opportunity to respond to architects who want to differentiate themselves."
"Let the specifiers express their desires and we will make them happen!"
A trend that looks ahead
Within the Ducerf Group, we already know that demand for these interior cladding projects is strong. According to Carole Debize, "in interior design, the trend for natural wood is there, and people want to continue to invest in their homes to have more and more elaborate interiors. With the new machine acquired, the field of possibilities is now open. Thibault Chastagnier believes that the BARD 107 texture, with its wave pattern, is an example of what can be done, but that the aim today is not to define a range. It's more a question of giving prescribers, architects and interior design professionals, the opportunity to express their wishes and we will make them come true!
The structured surface finish made possible by the Ducerf Group's new digital machine is not only reserved for oak. Tests have already been carried out on other species to further increase the possibilities. For species such as poplar, which have a less rich grain, the structured effect is of obvious aesthetic interest.
Ducerf now offers a differentiating solution for interior cladding to architects and designers for whom the possibilities are infinite in terms of creativity. If the market essentially proposes plywood products for the interior, the company is able to present a range of solid wood cladding. And Thibault Chastagnier prophesies that "new applications will undoubtedly emerge. There are certainly uses that we haven't thought of yet but that we will be able to develop tomorrow !"
Credit photos:
Centre aquatique Palestra : Erwann Pencreach / Maison Emeline Poulain: Julia Hasse