Why build a wooden deck?
2023.03.14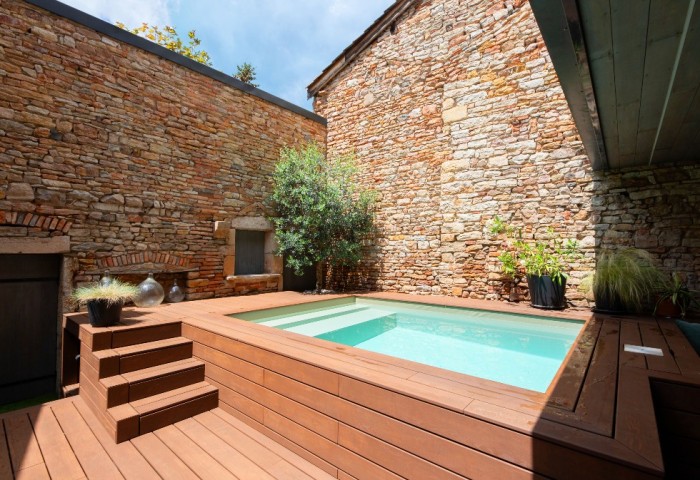 Why design an outdoor terrace?
Just like interior design, exterior design is an essential element in bringing harmony to an entire project. The construction of a wooden deck can be an excellent idea for creating a relaxing space in the garden or for large projects such as the development of public spaces.
In recent years, the terrace has become an extension of the home, a living space in its own right where people like to spend time, relax or entertain. Depending on what you want, it can be used as a garden furniture, a dining area or as a place to relax. It is therefore important to design it well, to make it functional and to ensure that it lasts over time. In places open to the public or in shops, investing in the design of a terrace helps to attract customers, making the place attractive while increasing the capacity of reception!
Whatever the project, a wooden deck is ideal! Easy to install and to clean, it goes with all styles.
How to make a deck warm?
Wooden decking is a practical and decorative floor covering. This type of finish integrates perfectly with different architectural designs and can be adapted to the constraints of the space.
And of course, the choice of furniture should not be overlooked to complete the atmosphere of the terrace. Choice of colours, accessories, decoration and lighting, all these elements will allow you to highlight this outdoor space and will harmonize the warm side of the wood.
Why choose a wooden deck?
Wooden decking is popular because it offers many advantages. It is environmentally friendly and can withstand all types of weather. Its natural appearance is also highly sought after, offering an inimitable finish, a noble material.
Another strong argument is that wood decking offers resistance and longevity: our thermo-treated ash decking boards have undergone a high temperature heat treatment. This treatment makes the ash wood durable and weather-resistant. Ash is a medium-hard wood often used for outdoor decking, balustrades, steps and flooring. We also offer a range of natural hardwood decking in oak and acacia, which are naturally durable outdoors.
Wooden decking is also interesting because it is easy to install. Indeed, its installation does not impose any particular constraints.
Above all, wood is known for giving structures a natural and warm character.
Wood, for a more ecological construction
Wood is a very ecological material, it is one of the most advantageous solutions given the minimal impact of wood on the environment. Installing a wooden deck allows you to respond to environmental issues by choosing a local resource, in fact the decking boards in our Coté Parc range are a good alternative to imported wood.
In addition, it is a material from a local and renewable resource that will store carbon throughout its life, an additional argument for proposing this type of solution in your projects.
What type of wood to choose for a terrace?
Natural oak decking has many advantages for the implementation of outdoor fittings, it is the noble wood par excellence. It is a naturally durable range of decking, very dense (650 to 700 kg per m3), oak is naturally very resistant to bad weather (sun, rain, humidity, frost, etc.). Without any treatment, it is qualified as "class 4". With a warm golden blond colour, oak decking will naturally change to a silvery grey under the effect of the sun's UV rays.
Acacia decking (Robinia) will be more yellow with golden highlights.
Thermo ash (THT) decking boards have a beautiful colour and fine grain, which makes them aesthetically pleasing. When stained in the mass, THT ash tends to have a natural, even chocolate colour, similar to that of exotic woods. Over time, and if no finish is applied to the decking, the boards will take on an even grey colour.
Like most wood decks, hardwood decks will naturally develop a natural patina in shades of grey. To maintain, protect or revive your wooden decking we offer a range of saturators made from natural ingredients, easy to apply, durable and easy to maintain. Please contact us to find out more about these finishes according to your needs and technical requirements.
How to install a wooden deck?
Here are some tips for creating durable, aesthetic and functional wooden decks:
Choice of wood species: It is very important to choose the right species for the project, taking into account aspects such as durability, weather resistance and aesthetics.
Substrate preparation: This may include levelling the ground, creating a solid foundation, drainage and moisture protection. It is then recommended that a joist is laid on planks.
Fixing the boards: The decking boards must be fixed evenly and securely, using appropriate fixing methods. Our decking boards are installed on joists (joists on planks) with a traditional (screwed) or invisible (Bfix) fastening. Care should be taken to ensure that the boards are correctly spaced to allow air circulation and avoid expansion problems.
Finishing: There are various finishes, including environmentally friendly saturators, to maintain, protect or revive outdoor THT wood.
Maintenance: Refer to good maintenance practices to extend the life of the wood deck.
You can also consult our installation tips.