Black wood poplar cladding THT
BARD 106 Carbon finish : black wood cladding
In line with the current trend of burnt wood, Ducerf Groupe offers you a new cladding " BARD 106 CARBON finish". This black wood cladding is durable and ecological. Thanks to its unique manufacturing process, it combines a thermo treated technique with the application of an Intense Black finish.
This process brings out the grain and rough sawn appearance of the wood, revealing reflections between deep black and ebony depending on the orientation of the sun.
Lightweight, easy to install and stylish, this new jointed profile in THT poplar is a real asset for architects. It can be used to clad all the facades of individual houses, commercial establishments or collective housing and adapts to all contemporary architectural designs.
Cladding characteristics
New: jointed profile BARD 106 visible face rough saw
New finish colour
Ecological saturator for a ready-to-use product
High Temperature
Lightweight, easy to install, design
Product advantages
Increased durability and strength
greated dimensional stability
Local wood species
100% natural material and treatment
Long-lasting finish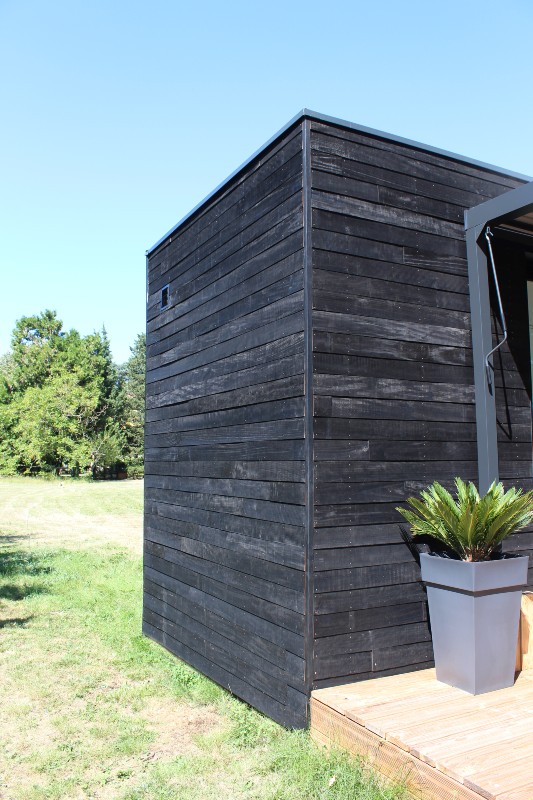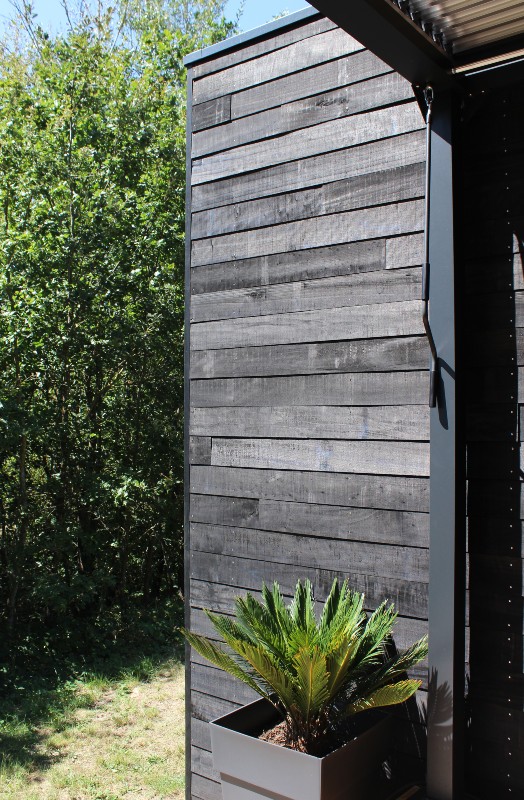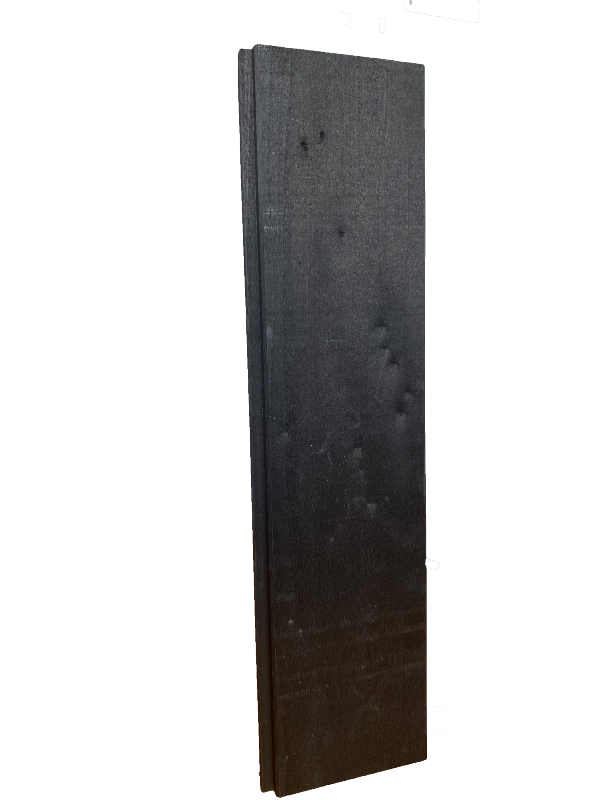 Technical information
| | |
| --- | --- |
| Reference | Bard 106 CARBON |
| Species | Poplar |
| Treatment | High Temperature Treatment > ecological process reinforcing the durability and stability of the species, thus creating a new material. |
| Quality | A/B |
| Visible sections | 21 x 110mm et 21 x 130mm |
| Thickness | 21 mm |
| Processing | Visible face rough sawn, 2 beleved edges, planed back faces, 2 tongue and groove edges |
| Packing | Available in continuous strips (range of lengths: 800, 1200, 1600, 2000, 2400, 3000 mm) |
| Use class | 3a et 3b |
| Durability class | 1 (very durable) |
| Finish | Owatrol Black Saturator |
| Reference finish | Saturator SI 106 Deep black and matt in aqueous phase (2 coats) |
| VOC | <5% (2004/42/CE) |
A trendy and ecological product for architects
Increasingly popular for its aesthetic qualities, burnt wood has made a place for itself inside and outside the home to give a warm and contemporary look to buildings. If the black wood cladding " BARD 106 CARBON finish " is part of this outside trend, and meets a real demand from architects, its manufacturing technique is more durable and stable over time.
Contrary to the ancestral Japanese technique which consists in causing a combustion on only one face of a wooden board, the new BARD 106 CARBON finish is treated in the mass by high temperature according to the THT process, a 100% natural treatment.
Moreover, it is a real alternative to imported wood on the market. The wood used comes from local forests, with a poplar species that is mostly found in France, and is PEFC and Bois de France certified.
A black wood cladding with great durability and easy to install
The THT treatment, combined with an intense black finish, is not only environmentally friendly, but also provides greater durability and dimensional stability of the species over the long term, preserving the cladding from changes induced by external aggression (resistant to insects and fungal agents).
To facilitate its implementation, Ducerf Groupe has imagined a jointed profile, specially developed for this product, which allows a greater speed of installation and a smooth modern aesthetic rendering on the whole façade or wall.
The rationalized and industrialized manufacturing of the " BARD 106 CARBON finish" cladding also allows DUCERF Groupe to be very reactive in its production.
available species