A new identity for our panels range
2023.04.04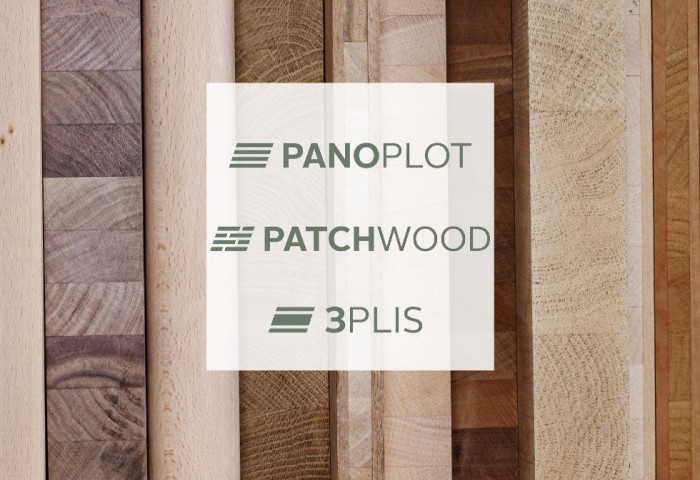 The identity of our panel range has been revamped!
The logos of our Panoplot©, Patchwood© and 3-ply© panel ranges have been redesigned! Modern and attractive, this new identity allows us to give an image that is more faithful to the aesthetic and technical qualities of these products and in line with our customers' expectations.

Discover or rediscover our solid wood panels which can be used to meet many interior design needs:
Panoplot©
Panoplot is a solid wood panel appreciated for its full length strips and its aestheticism.
This panel, mainly made of solid oak and beech, is intended for the manufacture of stair treads, table tops, furniture, fittings, decoration, etc. It is suitable for all the common uses of solid wood.
3-ply©
Made up of several layers of solid wood glued together with cross-ply, 3-ply is a type of wood panel for interior design that is resistant and renowned for its great stability. It is ideal for making custom furniture and fittings. It is a type of wood panel for interiors with proven technical strength and a guaranteed aesthetic effect.
Patchwood©
Patchwood is a glued laminated panel produced from a set of finger-jointed and laminated wood strips. The aesthetic effect of this panel makes it possible to create a very trendy decor and a resolutely contemporary finish.
A glued laminated beech, oak or other species panel, which, when finger-jointed, can be used to create long structures such as a beautiful table or a bookcase.

A word from the graphic designer:

We created the logotypes for the Ducerf panel range in order to meet the need to homogenise the image of the products with that of the brand.
To materialise the product in its simplest form, we decided to create three symbols. They reflect the technical characteristics and aesthetics of Ducerf panels through their manufacture, from cutting to assembly.
We have used Ducerf's graphic codes which are expressed through the horizontal lines of the logotype and the typography, to create a link between the two identities.
Concerning the colour, we chose khaki green, a natural colour that fits perfectly with Ducerf's golden shade inspired by wood. The colours complement each other, reinforcing the overall aesthetic of the brand while creating continuity.

Adrien ABB Leon