Edouard Ducerf: "Priority is given to investments and modernising to offset rising prices for our clients!"
2017.11.17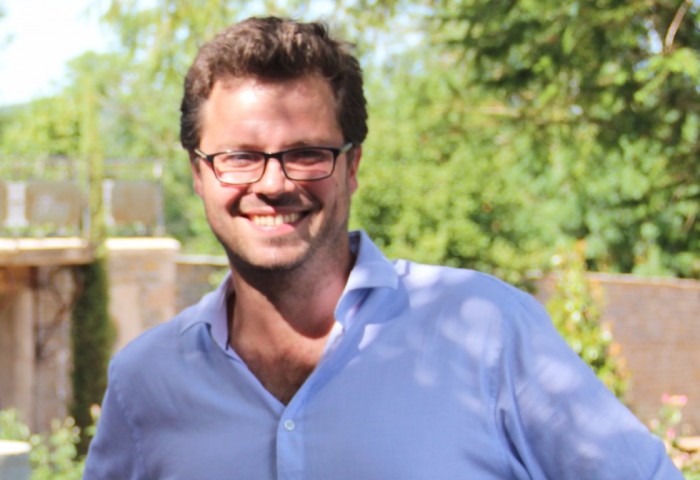 Just like every autumn, the usual period for stockpiling wood is in full swing in the French sawmills. At the heart of debates in the hardwood sector: prices are still on the rise, procuring round logs is problematic, but opportunities never fail to arise in France, as well as abroad. We checked in with Edouard Ducerf, Deputy Managing Director of the Ducerf Group.
We are currently at a crucial point in the year: the period for purchasing wood. How is stockpiling going for you?
Edouard Ducerf: Traditionally, autumn is indeed the time of year for purchasing a large amount of our stock. In the Ducerf Group, these few weeks account for 70% of the 50,000 m3 of wood purchases made each year. The tradition of stockpiling during a particular season is a matter of legacy, as autumn was, very wisely, judged the best period for it on the basis of two natural phenomena: on the one hand, between April and September, trees produce more sap, and so they can no longer be cut or else they'll rot, and on the other hand, in autumn, trees no longer have any leaves, so logging is more practical.
Today, wood purchases are made as standing sales in the forest and 1/3 of our procurements come from the French National Forests Office (ONF) and the other two thirds are procured privately, from cooperative organisations, forestry experts and individual suppliers. These owners are also very eager to sell wood during this time to benefit from the windfall effect of really high prices.
And how are the prices holding up this year?
Edouard Ducerf: Demand for hardwood is still very high, so prices are continuing to rise. In 2017, the price of our standing purchases were around 173 euros per m3. Compared to last year, that's an increase of 15%. And it's an on-going phenomenon because, to give you an idea, five years ago in 2012, a m3 was around 117 euros. But we do have to recognise that, back then, that wasn't really a fair value for a tree which took 150 years to grow.
An increase which will be offset by increasing sales prices by 7% for 2018
How will this impact the selling prices of Ducerf's wood?
Edouard Ducerf: We are always going to have to increase our prices for first transformation wood. An increase of 7% is already expected for 2018. But we try to offset this by not passing the entire burden onto our clients. This involves a significant amount of work on investments which should allow us to increase the competitiveness of our production prices. For example, we are currently redesigning the sawmill, with priority given to modernising and automating it.
In this situation, what do you say to your clients?
Edouard Ducerf: We want to reassure them that we are able to purchase wood under the best possible conditions to keep them satisfied in the years to come. Because we have a long-term vision. We are probably the sawmill with the largest stock of oak sawn wood and, in terms of purchases, we are becoming even more active in France to guarantee that we'll make a sufficient volume.
Are the reasons for poor supply always related to the pressures of international demand, and from China in particular?
Edouard Ducerf: Yes, we are still faced with this problem, whereby large volumes of wood are collected directly from the forests and sent to China. Up to now, the various measures taken to curb this problem haven't been very successful, even though action has been taken nationally to control it.
The second problem is that the oak market is flourishing at the moment; all the other sawmills have got rid of their stock as well and they are looking to build it back up. It all puts significant pressure on purchases in order to have wood. It's really all about supply and demand.
The final thing responsible for these increases is the intensive market activity for oak cooperage.
In France, the volume of oak harvests is almost identical year on year, but market needs are increasing. More and more people want a slice of the same pie!
60% of turnover comes from exports
How are Ducerf's wood exports?
Edouard Ducerf: These days, 60% of our turnover comes from exports, particularly those for the Asian market. Over the next few years, this trend could potentially intensify even further as developing countries like India arrive on the scene. The rest is exported towards certain European countries like Germany, Switzerland, Belgium, Spain and England.
What are your thoughts on the development of the hardwood market?
Edouard Ducerf: It's certain that, for hardwoods like oak, demand will continue to increase because global resources are quite limited. American oak is pretty much the only competitor of French oak, and as the world's population increases, needs will only increase.
Our challenge is to continue anticipating usage and passing trends. For example, around thirty years ago in France, a large portion of the oak that we were selling was used to make furniture to decorate our homes: bonnetieres, dressers, sideboards, large wardrobes, etc. These huge, traditional items are no longer in fashion. Today, oak is used much more in design, and increasingly in outdoor design, but also in the production of indoor and outdoor woodwork. The cooperage market is also creating some big opportunities. Oak flooring continues to be manufactured, and it's as popular as ever. There are also new uses for high-temperature treated timber (THT timber) which is also a big trend at the moment.
Another challenge for the sector is the quality of our wood and the sustainability of the resources. That's why all key players need to play their part by promoting traceability throughout the production chain and supporting the sustainable management of our forests.