Ducerf, a committed player for the enhancement of hardwoods in the construction industry
2021.07.20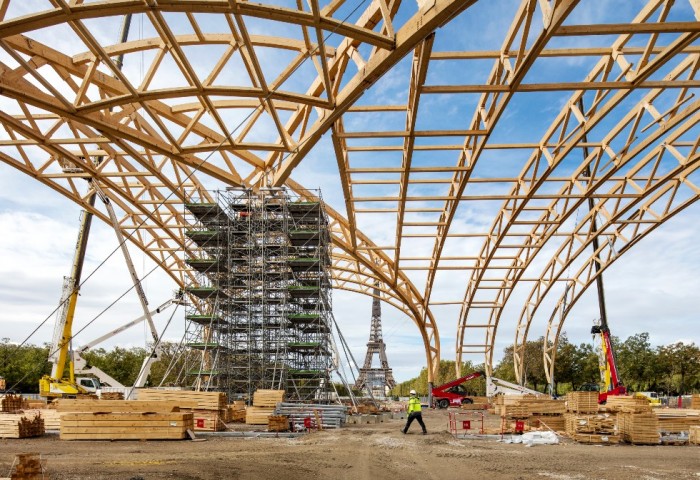 It's the way the story goes. In a construction sector that is becoming increasingly aware of environmental issues, wood, a material that was virtually forgotten for a century, is experiencing a renaissance. Its share is increasing year by year. Yet today, three-quarters of the timber used in France comes from softwood species, often imported from abroad... This is an economic and ecological aberration, since hardwood species make up nearly 70% of our domestic woodland. Faced with this trend, the players in the hardwood industry, among them the Ducerf Group, are mobilised and innovate to build the solutions of tomorrow.
"At Ducerf, as for all the industry players, we are convinced that while steel was the construction material of the 19th century and concrete that of the 20th, wood is here to stay as the material of the 21st century... and well beyond!" This prediction, a form of commitment, is voiced by Thibault Chastagnier, Head of the group's secondary processing division. It reflects a global market dynamic and an awareness across the entire market sector, particularly among project owners, whether they be public or private, professionals or individuals. And to imagine timber, especially hardwoods, once again becoming a central element of construction is, in the end, nothing more than a return to a norm that continued for centuries.
Hardwoods in the history of construction
Indeed, if we go back to the earliest times of human history, hardwoods have always held a strategic place in the construction. Oak and chestnut were essential for all structural frames, even the most monumental. The most famous in the world, the impressive framework of the Notre-Dame Cathedral in Paris, was called the "Forest of Notre-Dame" because each of the 600 beams used to build it came from a different oak tree. Shipbuilding was another sector where hardwood was indispensable.
Thus, until the 20th century, the use of these species was the general rule. The outbreak of the two world wars shattered this established order. In France, in order to rebuild the countless destroyed buildings as quickly as possible, so-called "modern" materials such as steel and concrete supplanted wood because, at the time, they were quicker to implement and cheaper to use.
But today, after a period of rapid industrialisation and the depletion of resources, environmental awareness compels us to reconsider established construction methods. In recent years, players in this sector seem to have rediscovered the innumerable qualities of wood and manufacturers' technical innovations have enabled it to make a comeback for extremely modern uses.
Hardwood or softwood for construction purposes?
Oak, ash, chestnut, poplar, beech… today, hardwoods represent three-quarters of French forests. Yet, these species are under-exploited, particularly for building purposes, where the share of softwood sawn timber amounts to 85%. Softwoods are used mainly for frameworks, substructures and interior joinery, whereas hardwoods are nowadays used more for interior fittings and interior/exterior joinery. "The reason for this is primarily price-related," explains Thibault Chastagnier. "The costs of the standing raw material, forest logging and processing tend to favour softwoods. The softwood sector has been quicker to structure itself and industrialise with the development of tools that make it possible to mechanically define each board. Hardwoods do not currently benefit from the same opportunities."
However, when it comes to making comparisons, hardwoods have nothing to envy of softwoods, in fact it's quite the opposite, according to Julien Guénard, Production Manager of Ducerf's secondary processing division: "Hardwoods have very favourable mechanical characteristics: they are typically more dense, and possess better thermal inertia and acoustic dampening properties. They are also more rigid and have a higher tensile strength. And like softwood, some species are naturally durable, so they can be used untreated outdoors. And I would add that there is a certain nobility to the material: from a purely aesthetic point of view, oak is widely recognised as one of the most beautiful European species!"
Strong potential to make a difference
In order to counter this trend, the Hardwood Plan was launched in 2012 by the public authorities with the support of France Bois Forêt and Codifab. The aim is to develop the use of hardwoods in the construction industry, in particular by encouraging the initiation of projects, by offering a variety of product profiles and through industrial innovation, as the building industry is a highly standardised sector.
"To fully exploit the potential of the 10 million annual cubic metres of hardwood resources in France, there is clearly growing momentum in the sector to rationalise processing costs, industrialise processes, develop innovative solutions and, as such, certify these new products," explains Thibault Chastagnier. "This is something we do on a daily basis at the Ducerf Group. Various initiatives have been launched to make better use of hardwoods and to ensure they are technologically and economically more compatible with the requirements of timber construction and a number of research projects are underway to develop high-performance technical products using hardwoods."
CLT, BLC, THT... the Ducerf group's solutions to enhance the use of hardwoods
For several years now, we have been working internally or through collective projects on the development of techniques to improve the physical properties of certain materials and the design of engineered hardwood products, including:
High temperature heat treatment. This is the most natural and environmentally friendly solution (no synthetic products), which makes it possible to alter the physical and aesthetic properties of the wood, rendering it durable and resistant to bad weather, insects or fungal attacks. This innovative technology opens up new fields of application for hardwood, particularly beech, ash and poplar, and means that the Ducerf Group can offer a range of exterior coverings (decking or cladding) while also promoting local hardwood species.
Other techniques provide the group with the opportunity to explore applications in construction: the use of finger jointing, for example, for oak decking. A study completed in 2020 by FCBA (funded by France Bois Forêt and supported by the FNB) and in which Ducerf took part, validated the mechanical durability of finger jointing in extreme conditions of exposure (outdoor decking). "The progress made on the lifespan of outdoor finger joints will probably make it possible in the coming months to update standards and broaden our range of decking products by offering longer oak boards, while at the same time providing project managers with tailored installation instructions," says Thibault Chastagnier.
Meanwhile, over the last ten years, Ducerf has been working on a project to develop the use of secondary quality oak in construction via the manufacturing of CLT (Cross Laminated Timber) panels. This collaborative project is led by the association Bois Croisés de Bourgogne. According to Thibault Chastagnier, "several projects we have completed, and in particular the renovation of the Camille du Gast high school in Chalon-sur-Saône, have enabled us to demonstrate our ability to produce and implement such panels from a local and currently underused resource." Previous research has confirmed the technical and economic feasibility of this venture and defined the manufacturing process. "Our ambition is to introduce this new product to both the public and private construction markets (load-bearing walls, partitions, floors). This is why we currently seek to obtain an ETN (New Technical Survey) which will provide an initial response to the regulatory requirements on the use of new construction materials."
In addition, to supplement its traditional solid oak frame offer, the Ducerf Group would also like to examine the possibility of developing glued laminated beams for structural use.
"For all these projects, we are fortunate to have the support and close cooperation of regional partners (the Regional Council, the DRAAF, the Banque des Territoires, the ADEME, FIBOIS BFC, the ENSAM of Cluny...) as well as local businesses, it is a team approach that is highly rewarding in every respect!"
Towards a factory of the future for hardwood products
Always keen to explore new techniques and remain competitive, Ducerf has brought on board a doctoral engineer from ENSAM: Benoit Besseau. The work he has been doing for the past two years aims to develop, specifically for hardwood species (oak, beech, ash, etc.), more effective integration of issues surrounding the production of end products from the primary processing stage and thus shape the "factory of the future". While there is no doubt about the properties of, and market interest in, oak material, the challenge is to reduce manufacturing costs by optimising the process and material yield to be sufficiently competitive vis-à-vis similar softwood products. This is essential, because cost remains a significant incentive for the consumer.
From being a material of the past, wood has emerged as a material of the future: attractive, resistant, innovative and environmentally-friendly. Contributing to the increased use of hardwoods, found in large quantities in our native forests, is a golden opportunity for the wood industry and our economy and would also drastically reduce our carbon emissions. In this era of climate change, this is probably why the French Ministry of Agriculture and Food has identified the French forestry and wood sector as being "one of the key pillars of green growth."