Ducerf Groupe x Steve and Wood
2022.03.03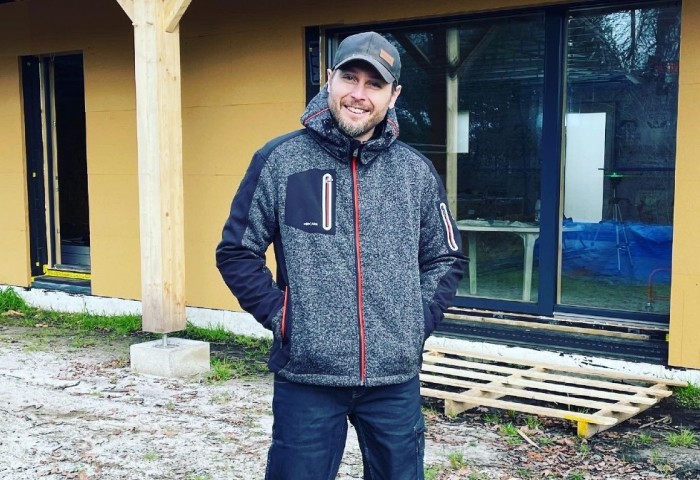 Ducerf Groupe x Steve and Wood
Steve Mintoff alias Steve and Wood is an amateur with a passion for woodworking.
Originally from Reims, he now lives in the west of France with his family where he works as a technician in the defense sector. Since 2018, he shares his adventures on Youtube with a community of nearly 16,000 subscribers.
For some of his creations, he chooses Ducerf Groupe wood.
Discover his portrait, his career and his wood projects:
A DIY and wood enthusiast
He's always pulled things apart out of curiosity, and he gets a lot of satisfaction from putting them back together. He enjoys attempting new things. His DIY grandfather, with whom he spent time in his workshop, surely inspired him. His interest for DIY pushed him to work with wood as a result of a chain of events. He enjoys working with his hands and working with this challenging material, which necessitates a high level of focus and can even induce a state of meditation.
Which species of wood does he prefer to work with? Oak, of course, with its smell, grain, and unique characteristics that give it an authentic look. Steve prefers the natural look and feel to that of painted wood.
Self-taught, he started making wooden accessories and furniture. By following the "Copains des copeaux" channel, he acquired a good knowledge of the machines and tools needed for his projects, particularly in terms of the different settings and safety instructions. Then he discovered the videos of the youtuber Samuel Mamias, who offers e-learning courses. A format that suits him perfectly and allows him to learn at the same time as his professional activity.
In 2018, he therefore took part in his "Fier de faire mes meubles" training course. Only 3 weeks later, he created his Youtube channel "Steve and Wood" in order to share his achievements, because for him "Showing what you do, it forces you to do better". A very enriching life experience that leads him to exchange with the wood community and create his network! He quickly got into the game and received many kind comments as well as advice allowing him to improve his skills.
Today, there are nearly 110 videos available on his channel!
A passive wood-frame house project
In 2019, he is taking on a new challenge, that of building his own passive wood-frame house, an adventure that he is sharing in detail with his community on YouTube.
A dream for him and his wife, which they want to share with their daughter, of a house that consumes almost nothing with the luxury of being able to do without an energy source. This house project obviously goes hand in hand with a lifestyle, based on non-waste, the art of recycling and the use of materials and products that allow daily savings.
Supported by his caring community, professionals and partners, he conceived the project from scratch and launched it! On a daily basis and following the broadcasting of his videos, he receives a lot of advice from professionals and always constructive criticism.
This project therefore required him to find ecological materials by sourcing as much as possible locally. It was while looking for cladding suppliers that he came across Ducerf products, cladding profiles made of local wood, made durable thanks to the high-temperature treatment.
High Temperature Treated Poplar Cladding
This house will be finished with 185m² of 100% natural THT poplar cladding. The high temperature treatment of this hardwood gives it a very good durability and therefore allows it to be used for exterior fittings.
Having the cladding of his house in wood was very important for Steve, as wood cladding is the perfect material for a beautiful aesthetic finish, it is also an insulating material with a very low carbon footprint. The cladding will be installed in the « Cap Ferret » style with joint covers. The choice of Thermo-treated poplar with its chocolate colour will contrast with the posts, which will support the framework and the lighter roof overhangs and the anthracite joinery. The choice of this species will allow it to have a more original facade than is usually the case for wooden houses!
In order to maintain the boards, a colourless protective oil will be applied to the cladding.
A very nice project in perspective!
To discover the Steve and Wood channel and follow the MOB project here (French Only)