Facing human resources, economic and energy challenges, the Ducerf Group commits record investments.
2023.04.26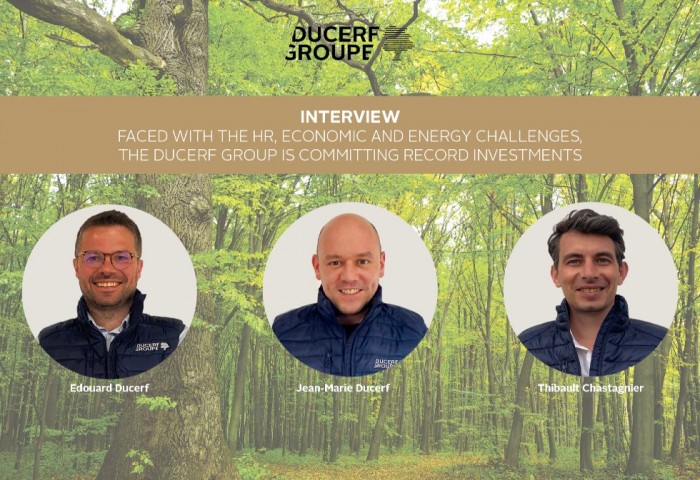 With an envelope of 4,7 million euros committed in 2022, the Ducerf Group signs a record year in terms of investments. On track? The acquisition of an innovative and promising press, the modernization of the equipment with in mind the attractiveness of the workstations, or the first production of logs for the wood energy market. And that's not all: to meet the energy challenges, the family business is banking on the use of its biomass to produce electricity. Up to 20 million euros could be invested by 2028.
Edouard Ducerf, CEO of the Ducerf Group, Jean-Marie Ducerf, Industrial Director, and Thibault Chastagnier, Head of the Second Transformation Division, talk about these major strategic orientations.
How was the year 2022 unique for the Ducerf Group?
Edouard Ducerf: Last year was indeed remarkable in the history of the group. All sites combined, we committed 4.7 million euros in investments, a first for our family business. In detail, three types of investments were made: those related to the upgrading of the industrial tool, those related to digitalization and new technologies, and finally investments related to the attractiveness and ergonomics of the workstations.
How do you explain these record levels of investment?
Edouard Ducerf: First of all, we have been buoyed by a favourable economic climate, with sustained commercial dynamism and a very positive medium-term outlook. Our 2022 turnover is up by 5%, driven by the price effect, among other things, which has enabled us to accelerate our development. We also note that the amounts of investments initially planned have been revised upwards due to inflation. We have also launched more projects, we are on several fronts!
"Equip ourself with new technologies to improve productivity, work quality and workstation ergonomics"
In concrete terms, what does this investment mean?
Edouard Ducerf: The upgrading of our industrial tool is linked to mechanisation and changes in transformation tools such as the purchase of a moulder or the renewal of the log elevator for example. There are also developments related to site safety. It is not necessarily a question of pure replacement. Each time, we take the opportunity to equip ourselves with new technologies to improve productivity, quality of work and ergonomics.
The most significant example is the acquisition of a new press for Bois Profilés, worth 1.7 million euros, i.e. a third of our investments committed last year. This is a great innovation to come, with the aim of manufacturing new products to expand our range!
Thibault Chastagnier: This press is a strategic and unique investment. Much more productive and contributing to the reduction of drudgery for our operators, it will allow us to manufacture new products but also new variants. Thanks to the co-construction of this tool with our German machine supplier (Weinig), we will be able to better adapt to the expectations of the evolving market. Our production tool must be flexible and offer more possibilities.
Today we have a dedicated line for each product, from now on this machine will allow us to design up to 3 products: glued laminated panels, solid panels or even carpentry blocks.
Finally, this remarkable machine tool will be pre-equipped with a system for structural gluing applications, which is again very innovative. It will also be used to supply our future production of CLT (Cross Laminated Timber) panels with a gluing capacity of 6 meters in length. Delivery is expected at the end of the year, for commissioning in early 2024.
A major boost to the digitalization of tools and production processes is also being given...
Jean-Marie Ducerf: Exactly. We are moving more and more towards Industry 4.0. All the machines will be connected and in the long term we will be able to do predictive maintenance, for example. This is how we will be able to change a bearing before it breaks, rather than waiting to see the production tool immobilised. The links with data and information systems are becoming stronger. Tomorrow, our machines will be able to communicate directly with our ERP software. Wifi terminals are now installed throughout the site. With "Digibois", for example, the sawmill is equipped with production entry terminals at each workstation. Now our employees can enter their production directly, whereas before everything was done on paper. This also applies to all aspects of flow management and stock management. It's a real leap into the digital world.
"Reducing the hardship of our employees is essential".
You also have a subject concerning the attractiveness of jobs, how are you progressing on the improvement of working conditions?
Edouard Ducerf: Reducing drudgery and improving the comfort of our employees is a priority for us. This involves investing in new equipment.
Jean-Marie Ducerf: Many actions have been and will be carried out in this sense. For example, a truck has been changed and we are switching from thermal forklifts to more ergonomic electric vehicles. At the sawmill, the issue of carrying loads is also taken into account, with automatic suction cups to assist our employees, or the installation of hearing protection with specially adapted moulded plugs. Also, all the lighting in the production workshop has been changed to LEDs, resulting in better visibility for the operators and a threefold reduction in electricity consumption.
"Production of logs for the wood energy market is expected this year"
You have also identified an opportunity to convert your related products into wood energy. What is it about?
Thibault Chastagnier: This is indeed an investment that has been decided for our Bourgogne Bois Industrie unit, with the acquisition of a processing line for compressed logs for the wood energy market. This production project is part of a global approach to the revalorization of all the "related products" from the production process, which the group started several years ago, and which we now wish to develop, while meeting consumer demand for more ecological and economical domestic heating.
This is totally new in the Ducerf Group. This new line will be installed at the end of the first half of the year with the objective of launching the production of these logs by this summer 2023.
"Producing energy from our biomass is a major issue"
Facing the energy crisis, what are the actions undertaken by the Ducerf Group?
Edouard Ducerf: There are of course priorities that have changed. Take the subject of "cogeneration" which consists in producing two energies, thermal and electrical, from our biomass. Although it was mentioned a few years ago, it is once again a major issue. We could thus use the related products of production (sawdust, dry ships and wood ships) to produce 200% of the consumption needs of the Vendenesse-lès-Charolles site and distribute the other half to the French electricity network (EDF). As far as the supply of our boiler and dryers is concerned, we could cover 100% of the thermal needs.
This project seems all the more relevant as we have a real role to play in reducing our carbon impact and this is going to become an increasingly important economic issue, and that's quite normal. In all, it will be a global investment of around 15 million euros, which we hope will see the light of day in 2026 at the earliest.
Thibault Chastagnier: This beautiful project is part of the energy transition, supported by the public authorities. ADEME, the ecological transition agency, has allowed us to apply for the call for projects entitled "Biomass heat wood industry", which encourages manufacturers to invest in this type of electricity production structure. We therefore hope to be able to benefit from a substantial subsidy to set up the project. It is a virtuous approach from both an ecological and an economic point of view.
Are you also planning to produce photovoltaic solar energy?
Jean-Marie Ducerf: This is another important project, with the forthcoming construction of a new building for storing our sawmill production. The idea is to have a 200 kW power plant on its roof. This will enable us to produce 10-12% of the site's electricity needs. We are currently studying the constraints associated with this type of building, so that it can be operational, we hope, by the summer of 2024.
Are there any other developments planned in the short term for the secondary processing activities?
Thibault Chastagnier: Yes, we want to invest in a new cutting line. This means that we would have a new building of at least 4,000 m2, a new structure that would allow us to better exploit the sawn material. Using artificial intelligence systems would also allow us to optimise the edging and trimming. This additional material would be used in particular for the production of finger-jointed products. This is a development to be structured over several years. These are innovative technologies in hardwoods that we are in the process of validating, technologies already used in softwoods. Here again, it's a project worth several million euros over 3 years. Once the study phase has been validated, we hope to be able to launch it in 2024.
Will all these projects involve sawing more wood?
Jean-Marie Ducerf: Yes, but moderately, and above all we will have to saw better to obtain a better yield. Other investments will help us to ensure the profitability of this cutting line. We will need more productive machines such as a new debarking line.
How much will you invest up to 2028?
Edouard Ducerf: If we take all these projects together, the Ducerf Group plans to invest between 10 and 20 million euros over the next 5 years. We are a major player in the transformation of hardwood, and oak in particular. And we have this will to remain, through our investments, one of the important actors on the national scene.
"Developing high value-added products"
Controlling the production chain, innovating, meeting energy challenges... Does this vision allow you to prepare for the future with confidence?
Edouard Ducerf: Totally. Through these committed investments we are seeking to develop more technically advanced products. The context pushes us to do so. On a global level, the need for wood is growing, whether for construction or furnishings. In the future, it will therefore be necessary to have the resource and to know how to transform it. In addition, the construction market is in full evolution with the arrival of the RE2020 (French environmental regulation for building) and the obligation to use a significant amount of bio-based materials. There are therefore great opportunities for hardwood. Because until now, oak has been used very little in structures. We have identified it as a development axis for the group. The press that we are in the process of acquiring will enable us to respond to this. Our strategic vision is to seek added value in the transformation of products.
And always with ambition!