Purchasing department at Ducerf Group
2022.01.24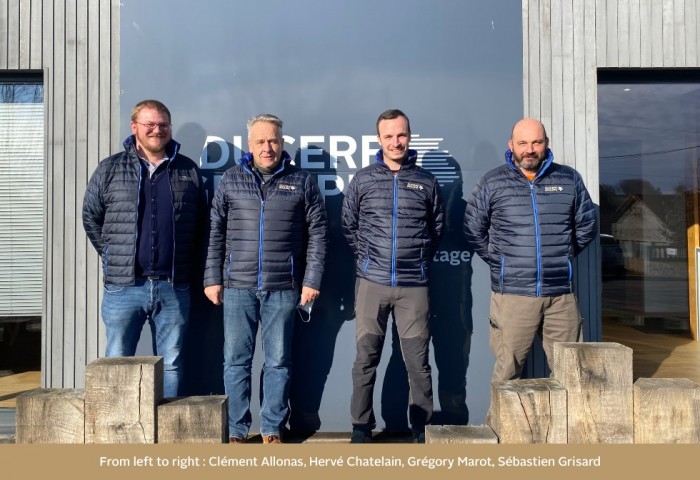 Wood supply for the sawmill and the second transformation units - the key link in the production process
At Ducerf, 4 employees are in charge of ensuring a regular and quality supply for the sawmill and the second transformation units.
Finding wood, negotiating, ensuring logistics operations, giving advice on forest management... so many missions that they carry out with determination and passion!
In a year marked by announcements of shortages, strong purchasing tensions and prices increase, we gathered the testimonies of Sébastien Grisard and Grégory Marot, buyers for the first transformation, as well as Clément Allonas and Hervé Châtelain, buyers for the second transformation.
How did they experience this year 2021 and what do they expect for 2022?
A complex and intense year for purchasing
"Complex", "intense" is how our first transformation buyers describe the year that has just passed. For Grégory Marot, a buyer at Ducerf for the past 7 years, it has been an unprecedented year, "unheard of".
They describe a year of high activity with a much higher volume of work than they have experienced in the past. In addition to this increase in activity, there were difficulties in buying standing timber.
The reason? A large number of sales with a more tight schedule than in previous years, so it is necessary to organise ourselves to be present at as many sales as possible and to free up time in order to carry out the on-site evaluations. There have also been strong gales which have caused a large number of fallen trees and have also increased the number of sales of felled trees. But above all they are seeing much more competition from exporters, as French wood is highly coveted by foreign countries.
Supplying the volume foreseen in the production and sales plan is proving to be a daily challenge: "To ensure the volumes, we are developing more and more partnerships with the forestry operators and we are setting up supply contracts. "The rainy weather throughout the year did not make things any easier and made it difficult to supply the sawmill directly," adds Sébastien.
Maintaining good relations with suppliers and activating the professional network
The problems encountered by second transformation buyers are not exactly the same. There is a problem with the availability of materials, especially for certain species, and a lack of visibility on future availability. For them too, the strong competition from debit buyers has had an impact on the volume of their purchases.
But this is not about to discourage them, as they can rely on their network of providers to continue managing supplies.
"Our providers suffer from supply problems, price increases and lack of staff just as we do. All of this has an inevitable effect on the price of the sawn timber. » Loyalty is a quality that pays off, "we have never stopped buying," says Hervé. "This regularity has reassured our suppliers, who are more inclined to let us know when timber is available and also to give us priority on certain lots if we are prepared to stick to the market price. »
Although there may have been some tensions during the past year, overall relations with suppliers have gone very well.
Finding quality wood products to meet customer requirements
"It's a team effort! With Hervé, we exchange information on a daily basis. I look after the western sector and he looks after the north-eastern sector. This relationship allows us to be responsive and to find the best solutions," says Clément. "Every day we have to bet on the future and anticipate tomorrow's needs in terms of production and customer demands.
"It has happened that we have been asked to find large volumes of ash that can be finger-jointed from one day to the next. These are one-off situations, but it's in these moments that you have to be able to react quickly and activate your network intelligently," he adds.
Activity that will remain very strong in 2022
For the first semester of 2022, activity is expected to remain very intense. Unsurprisingly, the demand for wood will continue to grow, also driven by the new RE2020 regulation. Indeed, the transition to a more ecological way of life will increase the demand for wood in the construction and design industry.
All are vigilant in the face of the uncertainty of supply to sawmills due to the strong log exports experienced in 2021, exports that have increased significantly compared to previous years. The economic situation is expected to remain dynamic and should not decline in the coming months. We should expect a tense purchasing environment once again.
Staying alert to opportunities and continuing to develop partnership contracts will be among the challenges of this new year.
Learn more about the job of a buyer in the wood sector:
In first transformation, forestry is the first stage in the transformation and development of forestry production. This includes all operations carried out from the purchase of standing or felled trees to their arrival at the sawmill: felling, evacuation of the forest, transport, etc.
The buyers are responsible for ensuring that the sawmill receives a regular supply of quality wood.
How do they do this? By buying wood, via group sales, or by negotiating directly with private owners of forest plots.
To judge the quality of the lots, the buyers must then visit each lots to evaluate, foot by foot, each tree offered for sale.
On the spot, they will measure the diameter of the tree with a forestry compass and visually determine its height according to the qualities sought after, making the best use of the volume of the tree.
This stage, which is essential in order to detect any defects that would reduce the quality of the wood or even render it unusable, is a sensitive mission, made possible by their large experience in the field, acquired after many years in the forest and in sawmills.
The buyer's objective is to make an offer that will enable him to achieve his production yield objectives while meeting the financial expectations of the sellers. A win-win relationship!
In second transformation, the buyers are responsible for sourcing wood products from other sawmills, mainly sawn timber, strips and square-edged timber, as the production from the Ducerf sawmill is not sufficient to cover 100% of the needs of the secondary processing units.
They also have to buy certain species (e.g. Chestnut, Ash, Acacia...) according to specific customer requests.
Their objective is to ensure that there is no break in production and therefore to always have the wood needed for the production requested.