Sylvain Hardy, with YD-WOODS© : « to encourage discovery of the beauty of wood and nature with a fresh eye, thus better respecting it »
2019.06.13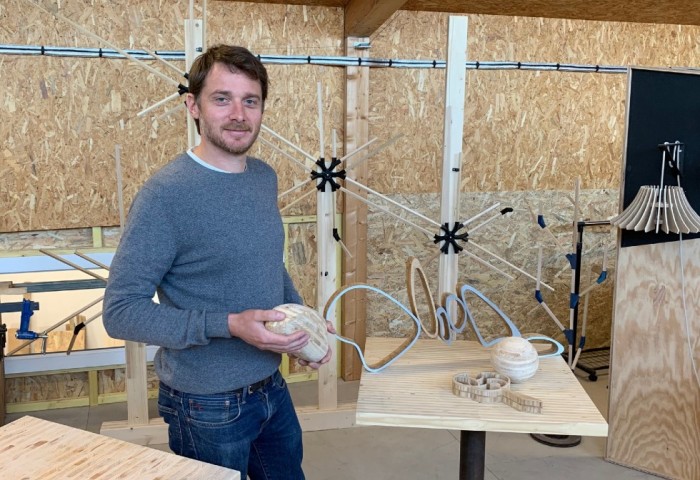 It's an atypical and innovative product that further enhances the Bois Profilés range. The Ducerf Group has teamed up with designer-cabinetmaker Sylvain Hardy to produce and market YD-WOODS©. This solid wood panel, made from common spruce or any other species, has the distinctive feature of being designed using crossed fibres which offers an original and refined graphism, particularly suited to interior design. We met Sylvain Hardy at the workshop of his company Ydrah in Avignon…
What are the origins of your professional and artistic career?
Sylvain Hardy: Above all, I maintain a powerful and special bond with nature. I come from a Breton family of flower wholesalers, but I turned towards electronics for my studies, where I began my career with major groups in the sector. Electronics was instrumental in developing in me a systemic vision, inherent to this field. Nevertheless, I held the profound conviction that I would eventually do something else, as I often drew, as if to materialise through lines and curves the part of creativity that I had in me. I designed a lot of vegetal scenery, so my sister and I had the idea of creating a flower shop. My impulse was guided by the desire to invite nature into interiors. The first step of this approach was the layout, then the desire to explore a more durable material, less ephemeral, more sustainable and timeless. That's why I decided to work with wood.

Nature, curves, shadows for inspiration
How did you begin to work with the material?
Sylvain Hardy: I first focused on the wooden barrel, looking to transform it and to recycle this object in every possible way. As time went by, I became more and more interested in exploring different wood species, and working with shapes, materials... In 2012, I professionalised my initiative by passing a CAP [vocational training certificate], but not in cabinetmaking, where I would only have been able to work with wood in a traditional way. I chose a course in boat-building. A choice that was inevitably marginal and non-conformist, but that enabled me to master the material, the resins and 3D techniques. At the heart of this course, there was a much broader outlook in terms of design. Following that, I met a cabinetmaker with whom I still work today, and at the same time, I created my first sculpture. For professional cabinetmakers, it was seen as just a hobby, but when I presented it to people, the reaction was enthusiastic. They found it beautiful. It was the beginning of my collages...

What guided you towards the concept of YD-WOODS©?
Sylvain Hardy: An artist-friend of mine creates works by balancing pebbles, known as Stone Balancing. It's an art form, and even a philosophy, based on nature and patience. I drew part of my inspiration from it. With wood, I wanted to make an extrusion of the contours, to work on balance as well. Depending on the angle of lighting, very different effects can be obtained. It was the starting point for YD-WOODS©. Following on from YD-WOODS©, I worked with the graffiti artist Goddog: by making a large piece, one metre in diameter, we were able to make his graffiti stand out from the wall, to extrude it and create a 3rd dimension, and even a 4th dimension with projected shadows. When I saw the results, I realised that it would be really original to reproduce it in panel form. That's how the concept YD-WOODS© was born.

"Wood is a link between Mankind and Nature"
What does it represent for you?
Sylvain Hardy: My primary motivation is not innovation at any price, but an openness to the world. I would like to contribute to changing people's perception of nature. By making it a part of people's every day lives, I hope that they will become more aware of the need to preserve this connection, which we are tending to lose a technology progresses. With its incredible richness, wood is the perfect link, and design is a bridge. What could be better than bringing an attractive, fun and graphic element into the home. People are receptive to this and look for it. They are made to reconsider nature in a different way.
Indeed, how do people react when they discover the product?
Sylvain Hardy: Generally speaking, the response is extremely positive. They find it very graphic and modern. I have a lot of requests from individuals for furniture, sculptures, combinations with vegetal design or other materials. Combining stainless steel with black, for example, works very well. From a material that is not noble in essence, we can achieve something very subtle and refined...
"Appreciated the human aspect and the interest shown by the Ducerf Group"
How did you meet your partner, the Ducerf Group, which manufactures and markets YD-WOODS©?
Sylvain Hardy: After creating the first samples, carrying out some interior design projects and in response to requests from initial customers who were won over by the product, I sought out a partner. I had heard about companies involved in woodworking in Burgundy. And eventually, I discovered the Ducerf Group. After initial contact at the last Carrefour International du Bois trade show, I presented my project to Thibault Chastagnier, the development manager. I was welcomed in a friendly and straightforward way, and I quickly decided I wanted to work with the company. I appreciated the human aspect, the interest shown in my technique and approach, as well as the possibility of being able to have items made locally by a manufacturer with recognised know-how. After several tests, this exciting adventure began with the first model, a cross-ply glulam graphic panel: YD-Woods no.1.

What are the different applications and uses for this material?
Sylvain Hardy: Essentially, it's for interior design. YD-Woods© no.1 is an ecological material of choice, especially for specifiers, interior designers, planners and cabinetmakers. It is also presented to material banks, one of which, Material District, is internationally oriented. This works very well. We have already received around thirty requests from architectural firms and designers. A number of agencies in France and throughout the world (London, New York, Los Angeles, Amsterdam, India, Belgium...) are interested. One of the product's great advantages is that all faces are usable. The Nike group and some design schools have also asked us for samples. So now, with the support of a manufacturer such as the Ducerf Group, I will be able to work more on ideas, create new designs and develop this range of graphic panels and perhaps discover further opportunities!

About the product : https://en.ducerf.com/products/graphic-panel-ydwoods