The Ducerf Group – now on social media!
2017.09.13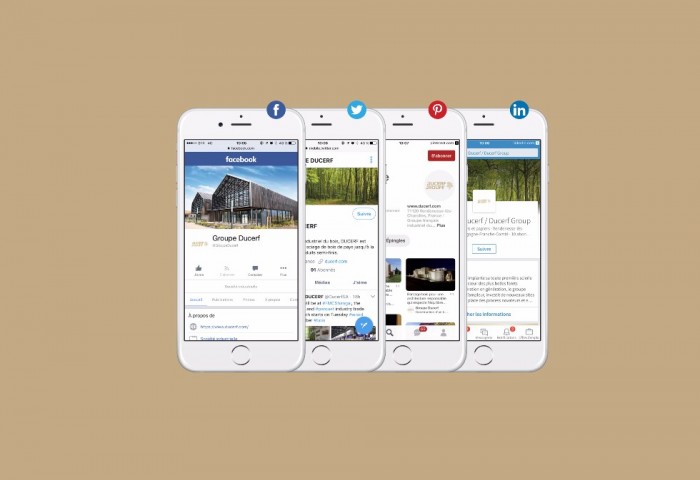 One year on from the launch of our new website, which offers you a brand-new design and browsing experience, the Ducerf Group has expanded its use of digital media even further by joining social networks!
Find Ducerf on Facebook, LinkedIn, Twitter and Pinterest!
From now on, you'll be able to follow all of Ducerf's news and the latest trends from the wood industry on our Facebook, LinkedIn, Twitter and Pinterest accounts – and here are the links:

- Facebook: here!
- LinkedIn: there!
- Twitter: step this way!
- Pinterest: here it is!
So, why did we decide to join social networks? It's very simple: it's important for us to stay at the heart of the community of wood professionals and enthusiasts in order to communicate, get involved in discussions and enable everyone to get information about the sector in another way.
Sharing and community
Through our social media accounts, we will share our achievements, the latest trends, our knowledge, our experts' comments and viewpoints, trade fair news and group news, and sometimes we'll invite you behind the scenes of this company that's more than 100 years old.
But not only that, Facebook, LinkedIn, Twitter and Pinterest also offer huge opportunities for sharing, giving us the chance to take part in discussions, as well as giving you information and advice. And along the way we will also offer you a stack of inspiration.
Just follow or like our accounts to get our news on your wall. We also heartily encourage you to share or pin our posts and bring the Ducerf community to life!
We may have been founded in 1885, but that doesn't mean we don't keep up with the times!