Transporting Ducerf's wood – The art of "constantly leveraging and adapting!"
2017.11.09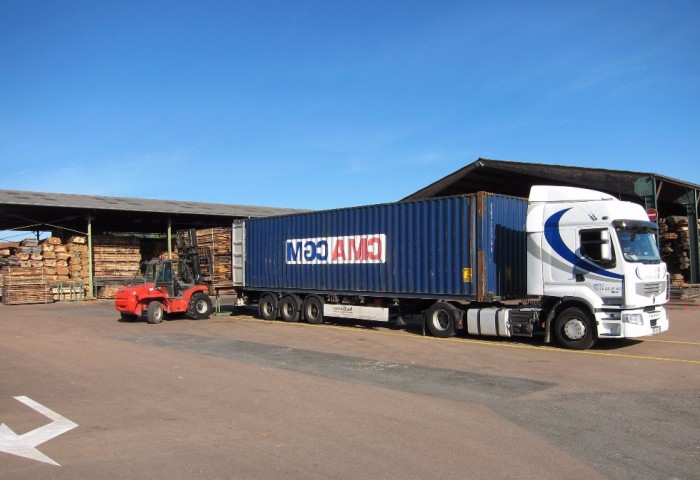 In some ways, they're the air-traffic controllers of the Ducerf Group... but their task revolves around the roads, railways and sea. From their control tower in Vendenesse-lès-Charolles, Burgundy, the staff from Sales and Logistics Management manage the almost continuous rotation of lorries and containers transporting Ducerf's wood to the neighbouring town, as well as halfway across the world. This article takes a closer look at this strategic department which, spearheaded by the Head of Transport, Terry Charnaisse Brown, must constantly juggle with modes of transportation, costs and national and international law.
"Last year, 350 containers left our logistics centres and I couldn't even begin to count the number of lorries. It can get up to about thirty a week!" These figures alone illustrate the constant logistics activity within the Ducerf Group, which can make the logistics centre in Burgundy look like some sort of busy ant farm when things get hectic towards the end of certain months. "Our task is to resolve a series of equations by taking care of each parameter," added Terry Charnaisse Brown, Head of Transport at Ducerf. Her department plays a strategic role within the operation of the company because, today, transportation is a major item of expenditure. For this reason, organisation and, above all, leveraging are assigned absolute priority. "Since the Ducerf Group is composed of various entities, two people take care of Les Bois Profilés, another takes care of Bourgogne Bois Industrie and with the export team, I manage Ducerf and two other sites in Haute-Saône and Nièvre, as well as all trade between the various companies. It really is a team effort to make sure that everything is coordinated properly," Terry explained, with the hint of a light Canadian accent.
Always lorries, but priority is given to alternative transport
Dispatching pallets loaded with second transformation wood, but mainly first transformation boules measuring several metres, to clients which could be on the other side of the world, naturally poses challenges relating to the weight and volume of the loads. Leveraging therefore begins with choosing the mode of transport.
Today, lorries are still essential for deliveries within the France and the rest of Europe. Whether it's raw material arrivals or deliveries to our clients, in a tautliner or flatbed truck, the purpose of the logistics department is to assess what the best transportation company is depending on the destination and the price-to-service ratio. "That's why we have been using a range of hauliers for six years. They are continually assessed and rated. That enables us to ensure that operations are efficient, because it must be remembered that clients often want their order to be delivered the following day!" Nevertheless, to manage costs, priority is given to loading the lorries in an effort to combine the deliveries to neighbouring areas, as well to maximise the heavy goods vehicles with a gross vehicle weight rating (GVWR) of 44 tonnes rather than 40 tonnes. They travel the same number of kilometres, but transport more goods, and so use less fuel per cubic metre. "This decision is also driven by our sustainable development approach," stated Terry Charnaisse Brown. "Ducerf has in fact been authorised as a Clean Shipping Partner by Medlink Ports, and we maximise alternative methods of transportation."
That's the case for railways being developed throughout Europe, and even towards China with a line dubbed "the new Silk Route". "But in Burgundy, we have been a bit neglected with respect to railway lines," she added. Another preferred clean method of transportation is the barge. Ducerf's containers are sent primarily by river via Lyon and towards the port of Fos-sur-Mer in the South. The containers are then loaded onto ships and taken abroad.
The vast majority of long-distance exports are first transformation products, even though second transformation exports have been growing increasingly since last year.
The heterogeneity of international law and the shortage of lorries in France...
For logistics services, international transportation requires the permanent and meticulous monitoring of changes in customs regulations, phytosanitary measures and their packaging regulations, or the standards in force in each country. "For example, in Australia, not a single trace of bark is allowed to enter the country. Another special case is England, where the loads on the two axles at the front end of a vehicle must not exceed 12 tonnes... Complying with all these rules requires an enormous amount of organisation, but there's a lot of us working on it!"
Language is also a problem. "You have to work with drivers of every nationality. Thankfully, many speak a bit of English," said Terry. "But the most complicated part has been the consequences of President Macron's legal reforms on **cabotage and posted foreign drivers. Since the start of the year, we have been in a serious situation with a shortage of lorries. This is particularly true for the South-East of France and Brittany, where there is little return of business." French transportation companies, who are slowly emerging from a crisis related to competition from other countries, are indeed benefiting from that return of business. The problem is that there are currently 20,000 unfilled jobs for heavy-goods vehicle drivers in France due to its being an unattractive profession, and that has a big impact. "Due to supply and demand factors, some hauliers have already announced significant price increases from the 1st January!" A severe blow to industry. And it's another step which may well hasten the move towards automation in the profession, which, over the next twenty years, will not escape the development of autonomous vehicles...
We have seen that managing transportation in an international company requires a strong sense of adaptability and communication, something that Terry Charnaisse Brown certainly has... "It's true that I liaise with many people – hauliers, drivers, clients, colleagues, etc. And that's what makes the profession so rewarding – within the Ducerf Group. It's very stimulating to make progress and find solutions as a team. Every day poses new challenges!"

**According to the amendment concerning the Macron Law, "from now on, any driver who performs cabotage operations in the context of international transportation will benefit from employment regulations and receive the minimum wage in force in France in the sectors concerned.28 November 2016