CETIC thermal efficiency renovation: Ducerf wood for "performance and aesthetics over the long term".
2017.09.12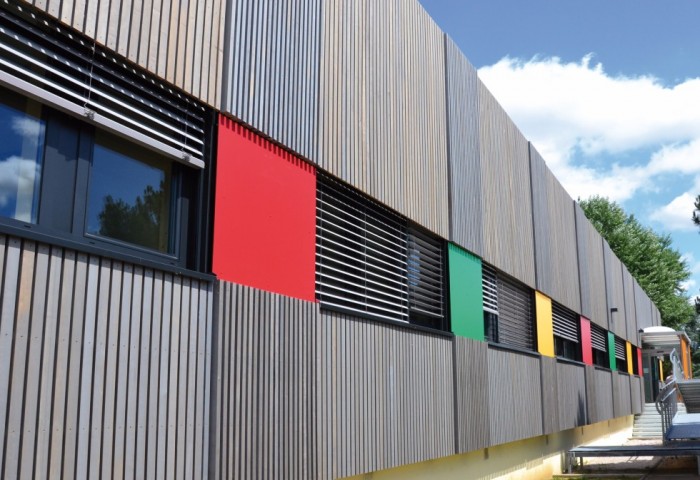 How can you renovate a 1970s commercial building to make it thermally efficient, aesthetically pleasing, and sustainable, all whilst giving it an iconic character to fit the activities going on inside? CETIC in Burgundy set us this ambitious challenge, and we succeeded in a spectacular fashion thanks to the innovative I-TECH-BOIS concept, which was the deciding factor in choosing Ducerf wood and the Variations cladding range for the job. Immersion at the heart of a major project.
"CETIC is more than 40 years old and is a model of French expertise. Every year, this centre – the only one of its kind in the world – welcomes approximately 2,000 people for training and an additional 4,000 visitors, including EDF and AREVA customers." These words from Pierre-Alain Lhote, Director of Centre d'Expérimentation et de validation des Techniques d'Intervention sur Chaudières nucléaires à eau pressurisée [CETIC], succinctly sum up the challenge represented by the renovation of this building in Chalon-sur-Saône.
It is a building used to create state-of-the-art technology and which houses a copy of a reactor and a nuclear power plant pool; it was also used to make some of the first parts for the power plants that are in use today. However, it suffered from weaknesses inherent in its construction, having been built in 1972 according to the commercial building standards of the time – an aluminium curtain wall and large glass surfaces across the entire height of the building, which caused significant energy losses.
As CETIC is a "major regional economic player", the management chose to look to local stakeholders for the execution of this project. Together with architect Olivier Le Gallée and design office Chaléas Ingénierie, the objectives were set: to reduce glass surfaces by a third, and to change the woodwork in order to achieve a 30% energy saving. Another challenge was that the project had to be completed while the site was in use, because activity at the complex could not be suspended.
Ducerf's Variations range in heat-treated poplar cladding combines "aesthetics, durability and stability".
"At first glance, wood can be daunting due to fears about ageing and pests," confides Pierre-Alain Lhote. But the solution used in our building guarantees both great performance and beautiful aesthetics over the long term." He was convinced by the technical solution developed by I-TECH-BOIS: panels prefabricated in workshops consisting of a wooden frame, two wood fibre insulators, and cladding. It is a solution that guarantees excellent thermal performance and efficient humidity management.
"For this project, the architect wanted to use wood in the facade in order to contrast with the highly industrial atmosphere of the area," says Thibault Chastagnier, Director of I-TECH-BOIS. His idea was to give this long building some shape by playing with the thickness of the cladding. The customer, a global player in nuclear energy, needed reassurance about the durability of wood cladding. I immediately thought of the Ducerf Group's Variations cladding in heat-treated poplar. Personally, I believe it is the product that best combines aesthetics (by lending the facades a more dynamic feel), durability (thanks to the heat treatment), and stability over time (thanks to the pre-greyed finish)."
This cladding solution allows unique facades to be created from interchangeable lattice wood cladding panels, giving architect Olivier Le Gallée the freedom to play with shapes, light and shadow effects, and differences in thickness, all whilst giving an overall impression of lightness. For the 800 m² facade, 10 tons of PEFC-certified Ducerf wood of regional origin (Douglas fir frame, heat-treated poplar cladding) were used.
"More natural light, less air conditioning"
There was another reason, a matter of sensitivity, that finally convinced the project manager to choose us: the origin of the wood. "The use of French products was very important to my customers," adds Thibault Chastagnier. With Ducerf, I can guarantee them locally-sourced materials and treatment without synthetic products, and I believe that's what made the difference. As installers, we love using Ducerf cladding products because they are first-class products with a made-to-measure joint layout thanks to the butt-jointing technology. "
The wood, which has been treated with a grey tint to anticipate ageing and so help ensure aesthetic homogeneity, has an elegance that gives the CETIC building a striking new look that now contrasts wonderfully with the very industrial atmosphere of the area. The grandness and modernity of the facade reflect the highly strategic activities going on inside. At the end of the 2 months of work, the Director of CETIC, Pierre-Alain Lhote, declared the project a success: "We are satisfied with the results. We are seeing improved management of natural light, and during very hot summer months, we are noticing a better level of comfort in terms of overheating – there is less need to use the air conditioning." And this feeling is confirmed by the energy consumption figures, which have decreased from 251 to 175 kWhPE/m2/year. That's a saving of 30%! Thermal and aesthetic objectives achieved!"