Do you need bespoke timber created by experts? The Ducerf Group is here to help you!
2020.04.14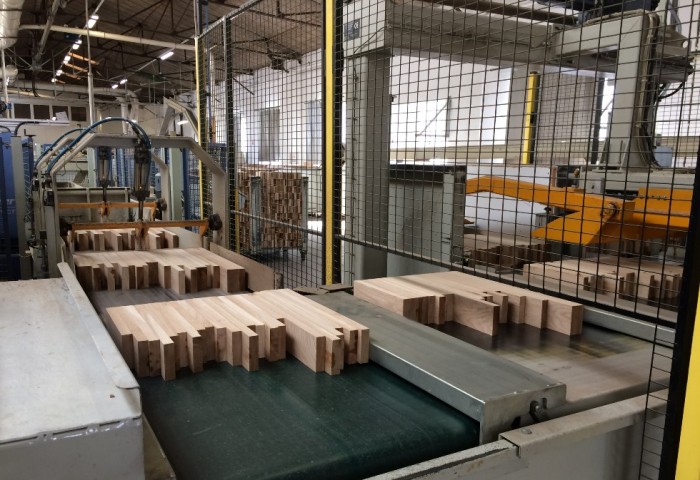 Finger jointing, gluing, profiling, drying, high temperature treatment… whether you're a sawyer, a carpenter, a joiner, a parquet layer, an interior designer, a trader or even an importer, the Ducerf Group provides the industrial resources and human know-how needed to supply bespoke timber according to your needs. Thibault Chastagnier, manager of the second transformation division, describes the various processes that make up our "Bespoke Services" and takes us through the offering on video! Follow the guide…
Over one hundred years of expertise and cutting-edge technology at your service
With 135 years of experience, the Ducerf Group can provide wood transformation production lines and expertise in all species to help wood industry professionals get the most from their materials and tailor them to their needs.
From the various sorting processes to the finger jointing and profiling lines, from the dryers to the heat treatment unit at "Bois Durables de Bourgogne", which houses two high temperature heating ovens... Shape your timber to give it the appearance and physical characteristics that you're looking for with our "Bespoke Services". Whether you have standard or special requirements, our staff can offer you suitable solutions.
"Nothing is lost, everything can be transformed! "
That's our motto at Ducerf! Do you have off-cuts and/or sleeping stock? Once sorted by our operators, we can use our technology to convert them into long finger jointed, glued boards of up to 6 metres in length. Finger jointing is a technique used to obtain longer boards by gluing together shorter pieces of wood known as "off-cuts".
Assembled length-wise and connected by jointing, this process makes it possible both to remove major defects for a uniform appearance and to provide boards of fixed length. The resulting solid wooden boards are interspersed with finger joints at irregular intervals.
This initiative is both economical and environmentally responsible, enabling you to take full advantage of your timber by transforming it into a finished product.

Using our fully automated profiling lines, your materials are shaped according to the design and cut to size to match your project's specifications: cladding, joinery work, decking, parquet... This procedure gives the wooden board its definitive form. Depending on the design, special tools are mounted in our machines to provide you with technical products such as bespoke profiles, intended for the manufacture of interior and exterior joinery elements.
Our integrated planers, sanders and length-cutting systems ensure uniformity and a high quality aesthetic finish. For example, machining of tongue-and-groove joints for floor boards and cladding is the last operation to be carried out on this production line before stacking and packaging takes place.
From simple planks of solid or finger-jointed wood of varying widths and thicknesses, and other pieces of raw timber, you obtain a carefully crafted, ready-to-use product.

A change in colour and appearance, improvement in stability... The power of drying and high-temperature treatment
Whatever the species, the drying service is available all year round at our main sites: The Ducerf Sawmill in Vendenesse-Lès-Charolles (71), Bois Profilés in Charolles (71) and Bourgogne Bois Industrie in Beire-Le-Châtel (21).
With units of 38 to 100 m3 and vacuum-units of 6 m3, drying your wood reduces the risk of distortion and attacks by fungi and other parasites. Using wood with moisture levels that are in hygroscopic balance with their final environment improves its stability.

The high temperature heat treatment (HTT) process involves innovative technology that opens up a whole new range of applications for both hard and softwoods alike. In terms of appearance, you can broaden your colour pallet: the wood's overall colour is evenly altered depending on the heating temperature (140° to 210°) and according to its intended use. Light, caramel or dark, the treated timber will set the tone for your new creations! A trial oven of 1 m3 is available for your tests and samples, we also have two ovens with a capacity of 20 m3 each.
We can also add new technical characteristics to your materials: better resistance to elements such as fungal attacks and infestation from woodworm; improved durability and dimensional stability as required and recommended for external use (poplar, ash...).
This is an excellent way to use local species, through a process that's 100% natural and ecological.
Free advice and quote: contact us on +33 (0)3.85.88.28.33 or via email here
See our brochure, download here, for more detailed information on our service offers.