Fabrique Pluriel, a young artisanal company that has chosen quality with Ducerf wood!
2021.01.07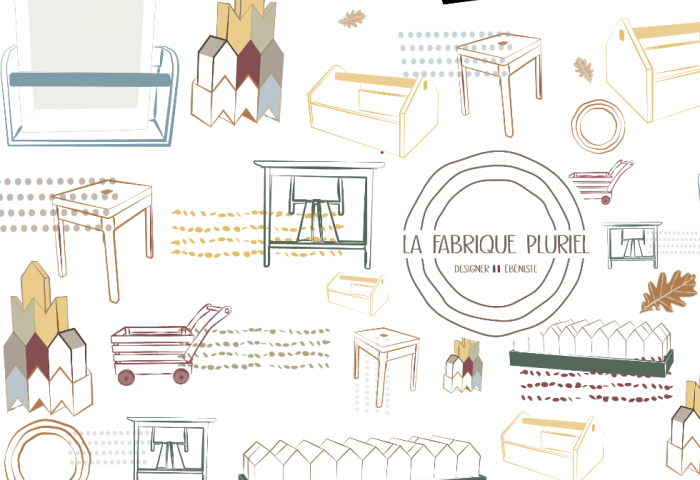 While the Ducerf group works with large and industrial companies, it of course also supplies wood to smaller outfits! Young craftspeople, creative people and those who love quality materials are also turning to our Burgundy-based company. This is the case for Manon and Antoine Pluriel, a young designer and her husband, a cabinetmaker, who recently set up Fabrique Pluriel. They chose solid wood and eco-design for their objects and furniture. They now get their supplies from the Ducerf sawmill that is located only 4 km from their workshop, and which helped them and catered to their needs. Learn more…
What is the story behind Fabrique Pluriel?
Manon: Our personal and professional stories are very tied up with each other. Antoine and I met at the École du bois, a woodwork school. We shared a passion for wood and the noble nature of this material. At the time, we already were planning to work with natural materials. With this as our guideline, we gained broad experience, at first individually. And then we started a family, and, quite naturally, we thought it was time to set up our company.
Antoine: Yes, it was our life journey that made us fall in love with nature. We have a deep love for our environment, a source of riches and life. Building upon our experiences in other companies, Manon and I wanted to provide a fresh take. So,we followed our convictions, adopting traditional and eco-responsible craft methods using as little hardware as possible, and as few external elements as possible. This means we can simply make finished items from wood and sell them to our customers. We have very few intermediaries. Our production circuit is very local and very direct.
When did your fondness for wood start?
Antoine: My fondness for wood goes back to when I was very small. My grandparents were farmers in the Charolais region. I have always lived close to nature and I've always made things from wood. There are lots of very specialist professionals in the wood sector, and I took an interest in that very early on.
Manon: My parents encouraged me to study architecture, so I enrolled at an interior design school. During the first year, we worked a little with solid wood, and for me, it was something wonderful. I was stunned! But after that, we worked more conceptually. I wanted to go back to manual work, to design real things. That had more meaning for me.
Antoine: Our common thread is really the environment. We are motivated both by nature and respect for humanity. Wood already has all the necessary qualities. We don't need to combine it with artificial products to bring out its added value.
Targeting a clientèle with environmental awareness and a fondness for traditional crafts
In the eyes of the general public, wood as a material is now coming back into favour, but it wasn't fashionable a few years ago. While you were studying, were you already thinking of this kind of production?
Antoine: At that time, wood was perhaps more elitist, but the love for wood has never really been lost. It has simply become more accessible to everyone these days. So, yes, I dreamt about it, but without actually thinking of making things that would meet customers' needs. In fact, you have to adapt to changes in mentality. Traditional cabinetmakers had a clientèle that came to see them with projects that could sometimes take several months to complete. Now, we have to adapt, be inventive, and be responsive with a noble material to meet consumers' desire to have everything straight away.
So, after being in business for a few months, what is the profile of your customers?
Manon: There is a wide range of profiles. Ideally, at the start we thought we'd have quite a young clientèle with environmental awareness and a fondness for shared values. When our on-line shop opened, however, and as we had visits to our workshop, the first items we sold attracted people in their 40s and 50s. It takes time for people to find out about you.
Antoine: But indirectly, we also reach a younger clientèle, because our clients in the 40 and above age group give items and furniture to their children and toys to their grandchildren!
"With Ducerf, we found a local company and people who are interested in our needs, our know-how and our convictions"
Your know-how is very traditional, but your way of communicating is very modern. Is it important to use digital tools to reach out to your customers?
Manon: Economically, the Internet is obviously very advantageous. It's important to have a an on-line shop, to advertise on social networks (Facebook, Instagram, Pinterest). This means we can also have products in stock, have serial production, keep manufacturing costs down, and be more accessible and distribute our products easily. We have, however, noticed that meeting people, showing them our products is still essential. Everyone who visits our workshop, who touches our objects, sees their quality, thinks they are beautiful and wants to take them home! In the future, it will perhaps be beneficial to create points of sale. But coming back to digital technology, you definitely have to keep up with the times, and given the current situation, with lockdowns, simply having a shop would not have been viable. On top of that, few craftspeople make and sell their objects themselves on e-commerce websites. In our case, we are hoping to become creative artisans "2.0".
How did you get to know the Ducerf group?
Manon: Ducerf was already our supplier of heating wood. It is the closest supplier in the area. So, it totally made sense to contact them. The company is very well-known in our region. It was impossible to pass them by.
Antoine: We got in touch with Thomas Botti, a sales rep in the group, through personal contacts. We chatted about deciduous woods and products. Since we want to be able to trust those we work with, we went to their site and saw that it wasn't just a little sawmill. The group has modernised to reach high volumes. At the site, there is real know-how. It is very well-equipped and modern. We were looking for high-quality wood, and wanted to work with a French company involved locally with people who are interested in our needs, our expertise and our convictions. And this the case at Ducerf.
"More and more customers are keen on staying local and are interested in wood traceability"
Which species of wood do you work with?
Antoine: We work mainly with local deciduous wood varieties. That is, in fact, the advantage with Ducerf. If we want beech, chestnut or oak, it's all available. When I see the stock, it's just amazing. You can just take your pick! But the most important factor is traceability. When we ask the sales rep where the wood comes from, he looks at the barcode, calls his office and he can tell exactly where it comes from. We know, for example, that the trees come from a radius of 150 km about us.
Manon: Yes, I really think that customers are increasingly invested in buying locally and traceability. But people need to be educated. You have to explain that the wood is not a resource that you find just like that. They need to learn to distinguish between an object made from bamboo that comes from the other side of the world and an object in solid deciduous wood. These are wood varieties from our regions that are managed responsibly. There is value in that!
What are your projects with the wood that you are buying at the moment?
Manon: We have bought some beech to make cooking items: chopping boards, spatulas, kitchen utensils. And soon, we're going to buy some chestnut to make hives to house wild bees.
Antoine: These products will be ready by next spring. These hives will be available on our website for private customers. This is really important for biodiversity.
"Eventually, we would like to pass on our values to apprentices and young people on training courses"
How do you stand apart from the current competition?
Manon: We have noticed that today, many creators working with wood use machines with digital controls. They make flat objects, textures and customisations. While the results can sometimes be very attractive, the very essence of the material and the work carried out on it lacks soul. It doesn't have this depth or roundness that traditional working methods bring to wood. We personally prefer to give volume and a specific identity to our creations. That's why we work without digital controls.
Antoine: It's the know-how that we're interested in. Each object is handmade, so each item is unique. With points of sales, people would be able to see that each creation has its own texture, veining, etc. In the same series, you can see quite different results. Customers care about that.
If you look 5 or 10 years into the future, where do you see your company?
Manon: The aim is first of keep our business activity reasonable. We don't have ambitions to become a multinational! We would also like to have young people on training, apprentices we can pass on our values to. Developing the manufacture of hives would, of course, be a lovely project! With regard to design, I'd like to continue to do creative work, to make unique and useful objects at Fabrique Pluriel.
Antoine: We will probably also diversify our product lines more. We would like to create outdoor furniture with biodiversity issues in mind. We would also like to modernise the workshop a little. For the time being, there are lots of old machines that I repaired myself. Modernising could help us be more productive, more efficient, and, as a result, more profitable. Having said that, the artisanal side is very important for us, and it will remain at the heart of our business!