Florence Perrucaud: "2020 was a record year for Ducerf in terms of export, a trend set to continue in 2021."
2021.03.03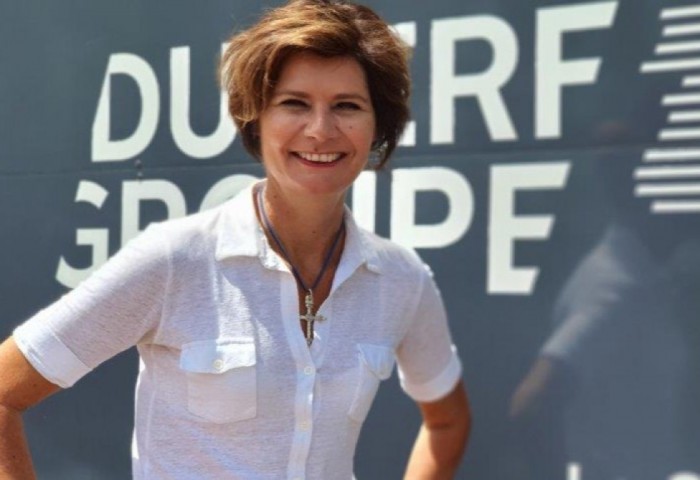 Export represents a powerful development lever for Ducerf. In 2020, more than half of the Group's revenue came from international business. Despite the Covid crisis, this sector has not only held firm, but thrived, and the outlook is extremely positive. These results confirm the Group's long-term strategy to open up to new markets, as well as the efforts invested by Florence Perrucaud's team. The Group's Import and Export Manager reviews performance over this unusual period, draws conclusions and looks ahead to the coming months...
How did the export sector of the Ducerf Group deal with the Covid-19 health crisis?
Florence Perrucaud: Very well in fact, which brings a true sense of satisfaction. During the crisis, export performed really well. We reached 55% of overall turnover in primary wood processing and 50% in secondary processing. Over the year, our market share significantly increased. In some market sectors, we even saw progression upward of +40%! In fact, the timber industry in general has resisted well. Consumers have been spending less on leisure activities, which has been compensated for by a growing interest in home improvement. Obviously, countries worldwide have been affected by the crisis, first of all China, then Europe. But we have managed to keep our footing thanks to our significant network.
Your network and track record in the markets have proven beneficial for Ducerf...
Florence Perrucaud: Yes, given how difficult it has been to travel during this period, professionals, whether in Asia, the Middle East or Europe, have been doing business primarily with existing contacts. This has proven beneficial for us, as we have a substantial pool of prospects worldwide, a good reputation, and have continued to participate in some trade fairs. Buyers are no longer able to come and pick up goods, so they turned to known suppliers. Because you mustn't think that everything was at a standstill. Like I said before, consumers have been investing in furniture, in home improvement projects (renovation and building), which is a boon for our industrial manufacturer customers. And the fact that the health crisis, with the lockdowns and restrictive measures, didn't paralyse every country at the same time meant that we were able to maintain a suitable level of business (we were able to sell to each of our target countries at various periods throughout the course of the pandemic). For example, we have been working a great deal with Asia in 1st transformation at the sawmill, remaining highly responsive at all times to demand. Having not interrupted our activity during the crisis, we always have sufficient stock to respond to needs. And for 2nd transformation products, the fact that a number of our competitors were forced to halt production also explains why we were able to maintain a fair volume of orders.
We have also proven responsive in the tools used to compensate for travel restrictions.
How did you adjust your way of working during the period?
Florence Perrucaud: As with all businesses, we had to react quickly right at the start of the first lockdown by establishing teleworking, particularly for the back office teams. For the second lockdown, we worked remotely half-time. And on site, we adapted to the situation by respecting all the protective measures. For instance, we experimented wood receptions trhough video-conference on WhatsApp.
Do you mean that you have developed a remote reception service for timber?
Florence Perrucaud: Precisely! Our customers need to be able to visually assess the wood they are buying and be reassured of its quality. Normally, they would come and see for themselves. Since the beginning of the crisis, we have made the best possible use of modern communication tools and digital technology to adapt our working methods. Videos, photographs and video-conference calls on WhatsApp have been extremely useful in maintaining ties.
Responsiveness and the desire to offer our customers high quality service despite a difficult context have been our strong points in the management of this crisis.
"In times of crisis, export enables us to ensure the business is less vulnerable, because we can seek out opportunities where they are available."
Does this good performance confirm the Group's strategy in terms of export?
Florence Perrucaud: Absolutely, even though the share of turnover from export can be unpredictable from one year to the next, as we don't control all the factors. Last year, for example, we were significantly affected by the trade war between the United States and China. Before Covid, we had already been known to achieve 60% of our export turnover from 1st transformation. In times of crisis, export enables us to ensure the business is less vulnerable, because we can seek out opportunities where they are available. Our aim is therefore to expand into as many international markets as possible and thus contribute to the development of the company. This is the best strategy and it's very important. We do however need to get back to participating in trade fairs. Despite our substantial customer database, we still need to continue winning over new prospects. Acquiring a new export customer often takes 6 months of negotiation. At trade fairs, we can talk to people, get a feel for the market. These events are essential for the renewal of our prospects pool. This is why we have decided to take part in trade fairs in Dubai and in China in upcoming weeks.
Thanks to the groundwork that you carry out, Ducerf now has a leading role in the field...
Florence Perrucaud: Indeed, during the first lockdown, we were able to help colleagues when France was practically at a standstill, by pooling offers. We also managed to sell batches to first-time exporters. At the beginning of the Covid crisis, I remember that some sawmills only produced parquet for the French market. Their business activity was heavily impacted, or even non-existent. We helped them to sell a few containers by promoting our trading activity. We also have this collaborative role, which is the spirit of the charter we set up with French Timber1. Export is a collective initiative. For significant volumes, a single sawmill can quickly be overwhelmed for certain products. This means that it is vital to structure the French offer so that it benefits everyone involved.
[1 Editor's note: French Timber is an Association established in 2001 at the behest of the National Wood Federation, for the purpose of developing French exportation of sawn French timber and other products. Florence Perrucaud is the President of the Association]
Countries and regions at the forefront in 2020: Asia, North Africa, Australia, but also Germany, Switzerland and Austria...
What were the most active countries in 2020?
Florence Perrucaud: We achieved +22% in 1st transformation, but that does not involve all countries. On a closer look, we performed very well throughout Asia. At the end of 2019, we assigned a sales representative to this region, which has proven most helpful. He has managed to take part in a few trade fairs, albeit "in solo", but nevertheless this helped maintain our visibility. Which made it possible to generate new contacts and orders that represented around 300 containers. Vietnam, Indonesia, China, India and Malaysia are some of the key countries in that region. But we sell to a total of 42 countries: Algeria, Australia, Cambodia, Thailand, Taiwan, Nepal and Egypt... and they each have their importance. As far as the European markets are concerned, we have noted a degree of stability, even if Germany, Switzerland and Austria have been rather active, particularly in 2nd transformation. Today, we observe that customers no longer want to supply to be dependent on locations that are too far away. The lead times are too long and the cost of transportation in containers has significantly increased.
Which products have been the most successful?
Florence Perrucaud: In terms of export at Ducerf, we have achieved roughly the same revenue from 1st and 2nd transformation. In 1st transformation, we have sold a lot of selected boards, strips and square-edged timber, basically various types of planks. Most of the time, this involved dried timber. In 2nd transformation, what worked well, as usual, were the scantlings for windows and boards for processing, and any products used in the construction industry.
"In the future, we will need to be more creative in order to comply with the societal trends of the industry."
To summarise, what lessons do you learn from 2020?
Florence Perrucaud: I will remember our capacity to take on the new challenges that we were faced with almost every day or every week. The fact that we were able to offer solutions to dialogue with our customers and our prospects, with new practices that will certainly persist and lead to a little less travelling. It will be good for the environment. I also observe progress in the relationship between buyers and suppliers. Price, of course, remains key, but uncertainty has strengthened the importance of having a trusted and reliable supplier. These are also positive elements. A win-win relationship.
What is the outlook for this year, 2021?
Florence Perrucaud: We are fairly confident in 1st and 2nd transformation and the beginning of the year has already kicked off with gusto, with a strong ramping up of new species. Manufacturers now come to us for chestnut wood scantlings. However, the situation remains fragile. If China were to be placed in lockdown once again, we would need to be prepared. So it is still difficult to make future projections with any precision. Which is precisely why it's important to have a large network and to continue expanding it. In March, we will take part in the WoodShow trade fair in Dubai. There will almost certainly be a lower turnout than usual. We have already experienced fairs with less traffic, and it doesn't make our action any less effective, quite the contrary.
And finally, there are some great perspectives for oak. The United States have slowed their production and Asians have started turning to Europe to find stock... However, we remain vigilant regarding the prices of raw materials in France, which continue to climb, so we need to step up efficiency whether in production or in purchasing and at all levels of the business. It's a genuine team endeavour that started in 2020 and must be pursued.
In France, one senses a heightening of awareness concerning environmental issues and a draw to wood construction. Is this also an international phenomenon?
Florence Perrucaud: Yes, it's very perceptible. And if wood is in vogue in design or construction, I don't believe that it's just a passing trend. It's a question of comfort, of progress and of ecology. All over the world, more and more countries are no longer exporting their logs. They want to do their processing on their own territory, to limit CO2 emissions and not process their timber on the other side of the world. While not all countries have reached the same degree of maturity on these issues, things are changing. Some countries that used to order middle-range products have now moved on to the high-end range. Sometimes, we stop selling boards and planks (1st transformation) and we sell more scantlings (2nd transformation). Markets change in maturity. You have to be present to accompany these developments, it's our daily routine! The future will most certainly be in products from 2nd transformation. We will need to be more creative in order to comply with the societal trends of the industry.