Frédéric Doucet, Michelin-starred chef: "really pleased with the quality of Ducerf's products and the final results for my establishment!"
2017.10.09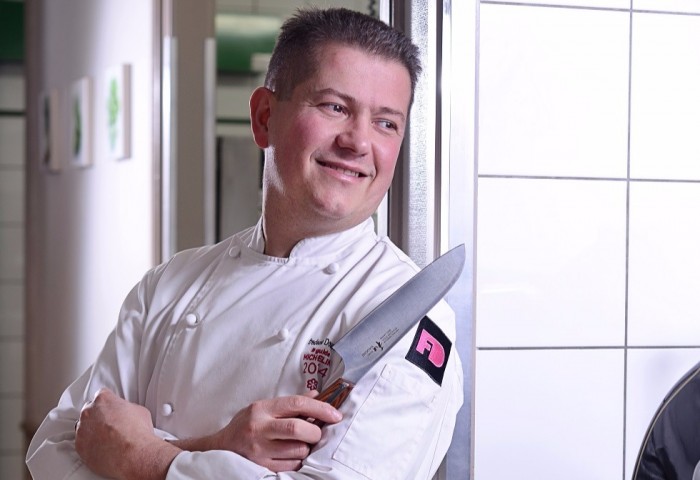 It's a little slice of paradise in the very heart of Burgundy. The Hôtel de la Poste, owned by the Michelin-starred chef Frédéric Doucet, stands between two flower-lined quaysides in the "Venice of Charolais." On entering the hotel, the use of wood provides a cosy and sophisticated welcome. The material is omnipresent throughout the hotel, from the elegant and comfortable bedrooms, to the internationally renowned gourmet restaurant and the relaxed Bistrot du Quai. The passionate and enthusiastic chef took pleasure in talking about his fondness for wood, and particularly products from the Ducerf Group. Our interview...
Wood is an important part of your establishment: the Hôtel de la Poste, the Michelin-starred gourmet restaurant, the newly built Bistrot du Quai and their terraces...what does it mean to you?

Frédéric Doucet: For me, it really is an important aspect! I always like to incorporate it into our interiors. I have a fondness for raw timber left natural, because its colour changes over time. You get the feeling that it's alive, that it's transforming...I also like the idea of not having to apply any products to it. It results in a mix of authenticity, modernity and robustness.
What does wood say about an establishment or a restaurant?

Frédéric Doucet: It evokes many feelings: contemporary design, warmth, modernity, but also a cosy, cocooning ambiance...
It's something which can break down codes and grandeur. And you can create lots of different spaces thanks to different species, forms or colours. You could have a garden area on the one hand and a calming Zen area on the other.
"In 3 or 4 years, not a single wooden plank from Ducerf's decking has deteriorated."
How do you and your wife go about designing a room or the bistro? Is wood a material which immediately springs to mind?

Frédéric Doucet: Yes, absolutely! To give you an example, we worked entirely with white and wood for one of the rooms in the hotel. The result is very natural, very light, classy and clean. I love it!
All in all, we've seen that using wood for decking, decor or furnishings brings some calm, serenity and maybe some trust as well.
I was in no doubt that we would use wood for all our terraces because, first, we could create a border around the pool, and second, it would always be very easy in terms of upkeep. I've been pleasantly surprised to find that, in 3 or 4 years, not a single wooden plank from Ducerf's decking has deteriorated.
Is the use of wood of historical importance in your establishment and does this go back to your parent's guest house restaurant which was established in 1978?

Frédéric Doucet: No, not at all. I actually felt that there was something missing when we rebuilt the facade in 2008, so we began to incorporate areas of wooden cladding. I intentionally left this wood to age. And I think it gives the building character.
Wood, a true source of inspiration for the menus
You claim to make sophisticated, local cuisine with a contemporary feel. When you develop a new menu for your restaurant, are nature and wood sources of inspiration?

Frédéric Doucet: Yes, you're right about the parallel between cooking and wood. It's about respecting art and tradition, movement and simplicity.
Designing a dish which is to be served on wood gives a particular image, a visual contrast that helps with preparation. And that also results in something exciting. A few years ago, we did actually serve appetizers on Ducerf's glued-laminated boards.
We can sense that you feel a strong attachment to local products and businesses in the region, like the Ducerf Groupe...

Frédéric Doucet: Definitely, and firstly I must say that I am very pleased with the quality of Ducerf's products and the final results for my establishment. Secondly, as someone who is lucky enough to welcome many foreign customers as well as many people from all over France to Burgundy, I believe that it's very important to showcase the region's craftsmanship and industry. For me, trusting Ducerf's wood and singing its praises is completely natural, and that's also true for the earthenware produced in Charolles or by local artisans. They are the real strength of this region!