In Ducerf, Meubles Loizeau has found the perfect partner to offer their customers an experience with wood
2021.02.05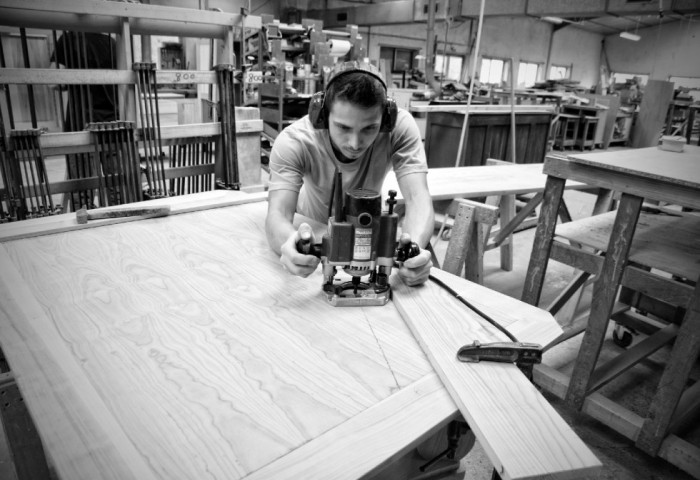 Meubles Loizeau is a soon-to-be centenary cabinetmaking workshop. At its workshop-boutique in La Romagne in Maine-et-Loire, it creates made-to-measure furniture. Committed to the skilled craftsmanship of his team and to the nobleness of wood, the Director Luc Ferrand, has found in the Ducerf Group a partner capable of supporting him in his development outlook, while sharing core values...
Tell us about your company…
Luc Ferrand: Meubles Loizeau makes bespoke furniture using traditional know-how and noble materials for private customers who visit the boutique. We have a large 1,000 m² showroom where many of our creations are displayed. Among our team members we have an interior designer who assists our customers with the design of their ideal piece of furniture. And we endeavour to make this creative process an authentic experience for our customers. The workshop is located right next to the boutique, so visitors are immediately in contact with our know-how and also with the timber itself. Each project is a journey from the original wood board through to installation at the customer's home.
Who are your clients ? And what are their aspirations?
Luc Ferrand: They come to us looking for a unique piece. We are part of what we call the "second set of furniture" market. Our typical customers have often finished paying their mortgage, the children have left the nest and they want to treat themselves. They want to take the time, with the help of a cabinetmaker, to find a piece of furniture that would suit and enhance their interior. They are pleased to provide work for local artisans who use noble materials. We offer them contemporary pieces in solid wood with high quality joining using traditional techniques.
"Since the 1st lockdown, there is a strong demand for solid wood, local know-how and even re-use"
Do you feel that concerns such as respect for the environment and the desire to employ local craftspeople have become more important?
Luc Ferrand: Yes, they are very much part of the zeitgeist. In fact, when we reopened after the first lockdown, our business picked up again at a surprising pace with new customers, often younger and many were in fact motivated by those very convictions. Since mid-May, we have noticed that there is a high demand for solid wood, for employing local artisans and even for re-use. We remodel old furniture to bring it up-to-date. Despite the difficulties of the past year, we can see our future is bright!
What are the current requests, the trends?
Luc Ferrand: We have realised that very often, people need some hand-holding. Very few arrive with a well-defined idea. Many discover our showroom with a simple and functional need in mind - some shelving, a cupboard or a TV cabinet. They find it hard to voice what they want. So we show them a lot of things, try to set them in the right direction, provide assistance. We take the time to discover the expression of their needs. For this development approach, we have a decorator and a designer whose services are completely free of charge.
It is the illustration of your desire to offer an experience to your customers…
Luc Ferrand: Precisely! We use stocks of hardwood that diffuse a very pleasant fragrance throughout the space. We have a storeroom at the rear of the boutique where the timber is visible. People draft their designs in this atmosphere. And when they're unsure, we take them around the workshop where 8 cabinetmakers are busy every day making furniture, cutting and joining wood. Customers are quite enchanted as this is a captivating experience. Some even come back with their children to show them this woodwork in action. I had sensed this trend, which was boosted by the health crisis, for a return to the local, the made-to-measure, the qualitative, the sustainable, the societal... And all our partners support us because they also have a sense that we are moving with the times. People have had enough of buying things that have already travelled around the planet.
Know-how, passion and transmission
Tell us about your expertise. What are the skills that make up your team?
Luc Ferrand: We have an 11-person strong team with 8 cabinetmakers. There is also a decorator-sales advisor, an external designer, a sales administration assistant and myself. It's a fairly young team with a workshop foreman who is only 40, but who has 25 years of experience in made-to-measure furniture. All our cabinetmakers were trained around here at AFPIA in Montaigu or at CIFAM in Sainte-Luce, south of Nantes. These are schools that train genuine cabinetmakers. We also have two people who graduated from the Nantes school of design before going on to train as cabinetmakers. They possess a creative side that we are very keen on. And finally, we always have several trainees, currently there are two.
For these sometimes strained woodworking professions, is it important to you to train the next generation?
Luc Ferrand: It has always been a part of our company culture to take on a lot of trainees. There is a real transmission dynamic with all these young people, who often come from surrounding villages. Our company, with its bespoke business, is highly attractive to young cabinetmakers. It is something that had all but died out, and we receive CVs on a regular basis. Beyond the products, we sell emotion. When furniture is ready to deliver, we are eagerly awaited, the relationship with our customers is strong. Sometimes, we stay to eat! However, if the customer is disappointed, the reaction can be disproportionate, so we recover the furniture and start over. It is essential that our customer be truly happy with our Meubles Loizeau furniture. And this attentiveness is also part of the spirit of transmission.
"With Ducerf, we have established a relationship based on trust"
How did you get to know the Ducerf group?
Luc Ferrand: It's the local sales, Jean-Philippe Laubreton, who initiated the contact, declaring that Ducerf wood matched our level of expectation. He came to us with samples and today, we are at the beginning of a flourishing relationship. In fact, we will probably develop new designs with some of their specific woods.
With the Ducerf Group, the idea is to establish a relationship based on trust...
Luc Ferrand: Absolutely, we want to build a lasting relationship in order to test new ideas, carry out experiments. We feel that we have found a company that will enable us to establish this relationship of trust. We don't buy with the aim of finding the best price. We are looking for a connection, a partnership, because we work with a living material. Today, what we buy from Ducerf suits us 100%, and in particular our workshop foreman who is especially demanding. We recently built a 6-metre long bookcase that was a great success. And we have some other ideas: for instance, we would like to experiment with THT wood for a range of outdoor furniture for which we already have requests. (Note: we refuse to work with exotic timber, we prefer to use local raw materials).
"Ash, beech... the tendency is a return to pale woods"
Which species, what type of material do you currently work with?
Luc Ferrand: We work exclusively with hardwoods. We work a lot with oak and beechwood. We also have our speciality, a lot of people come to use for cherry wood. And we discovered that Ducerf proposes this species. We will receive our first supply towards the end of the year. We also use ash. Overall, there is a real return to light woods, the crisis seems to have amplified this trend.
To lend more visibility to your business, you are developing a website. Is there a real willingness to use digital technology?
Luc Ferrand: It's unavoidable. To give you an example, we are the oldest exhibitor at the Foire de Nantes, and in 2020 the trade fair was cancelled, when it represents 10% of our business activity for the year. Given that customer contact is a necessity for us, we were required to change our business model. We are therefore in the process of adopting a more diverse distribution strategy. It will be physical, in-store and itinerant, but also digital. We succeeded, in March, with the support of the Region and the Chamber of Commerce, in implementing a new website that's a lot more interactive, which will help us to sell online, but also to encourage customers to visit our shop and to make our expertise known. Social networks (Facebook, YouTube, LinkedIn) on which we have been actively engaged for more than a year now, also provide significant impact. We have multiplied the opportunities for our customers to come and meet us and experience their own encounter with wood!