Jacques Ducerf: "2017 was a good year, and the aim for 2018 is to increase productivity and win new clients! "
2018.01.16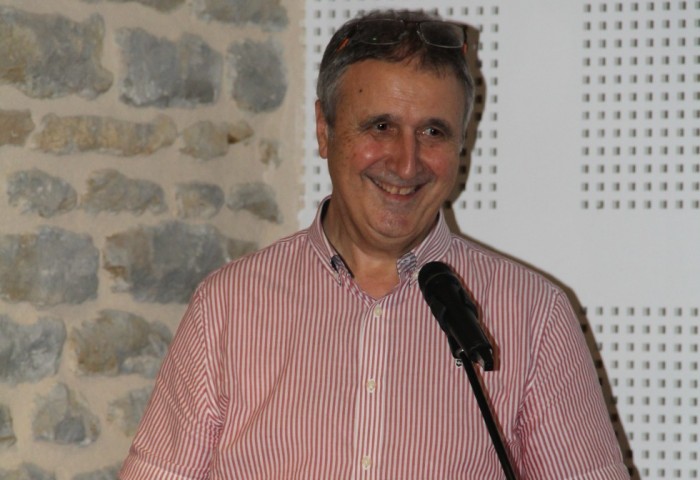 After the traditional end-of-the-year break over the holiday season, business has resumed in the Ducerf group's units. This new year will once again be important for the development of the company. Ambition, innovation, respect for customers and team commitment… Jacques Ducerf, CEO of the group, sets the course for 2018 and sends everyone his warm wishes!
What are your hopes for 2018?
Jacques Ducerf: I sincerely wish our teams and our customers a Happy New Year!
Firstly, to our teams, because their involvement, motivation and winning spirit reflect the solid foundations that we all share, and are tomorrow's keys for developing the company.
And to our clients, of course, because if they prosper, then indirectly, we will too! And more specifically, within the Ducerf group, I hope that we continue to respect our values.
Our first value is customer satisfaction; responding to the expectations of customers by providing a high-quality service and always honouring their requests in terms of volume, time lines and price.
Our three other pillars are innovation, team spirit and commitment. I am also pleased to see that the teams are very committed and advancing mostly at the same speed. Each team carries the others upward, which creates a strong work dynamic.
How would you rate the 2017 that has just ended for the Ducerf group?
Jacques Ducerf: Overall, 2017 has been a good year for activity, either in terms of revenues or client wins, both of which increased. We have really respected the objectives that we set ourselves as part of our "2020 Ambition" plan. We are on the right track. However, we have been burdened by the raw material cost of oak, which continues to climb because of the shortage. Nevertheless, our efforts in terms of innovation and productivity have benefited our customers and we have to a large extent been able to balance the increase in our prices.
"Already committed to the 2025 development plan"
So, how was the period for buying raw materials, which traditionally happens in Autumn?
Jacques Ducerf: Our raw material purchases went rather well, even though, once again, prices are still increasing with a rise this year of 15%. As a result, we have had to pass on part of this rise to our sale prices with a rise of around 7%, as Edouard Ducerf announced. The challenge now, whether this be with the National Forestry Office (ONF), the forestry cooperatives or private landowners, will be to secure supply contacts and to be able to face the future with confidence. That is one of our primary goals.
What is your ambition for 2018?
Jacques Ducerf: We are already aiming to continue on our present course, and I'm quite optimistic! In the short and medium term, we are going to make new investments and continue with the policy of increasing productivity to stay competitive.
We will strengthen customer loyalty through the right partnerships, which is also a way to jointly develop new products, and to be more responsive to trends. We will offer new services, digital content, communication tools and marketing offers via our website.
We are going to step up our strategy for winning customers and in our development plan, we are looking at increasing the production of other hardwoods, such as red oak, poplar, ash, etc.
These are top priorities for the Ducerf group. We are also already starting to work on a new plan for 2025 that we might call "Competitiveness and Conquests". This will enable us to set the course for our development ambitions.
"Through innovation, our strength is finding solutions for our clients"
Innovation will remain central to this development...
Jacques Ducerf: Yes, innovation is in the DNA of the group. We are currently working on numerous projects, such as the manufacture of compressed briquettes, composite glued-laminated scantlings and coated scantlings. We are also working on new products and manufacturing techniques that address customer expectations, but not only that, because we want to bring innovations to market. This is the case with our thermally modified products, where this ecological technology and research has allowed us to offer something new to our clients.
How will exports fit into the development of the group?
Jacques Ducerf: They will be very important because they represent 50% of our revenues. Firstly, exports are shipped to our European neighbours. In fact, we're going to raise our profile and activity in Germany by taking part in the Domotex fair in Hanover and the Fensterbau Frontale exhibition in Nuremberg. There are other regions where there is a demand and where we must expand our presence, like in the Middle East. And then we will, of course, continue with our development in Asia, in China, Vietnam, Indonesia and Malaysia, while not forgetting an important market that is opening up, India, where are still making inroads.
"The sustainability of the company is secure"
Concerning the industry, what are the measures that will be undertaken this year to combat the export of logs from French forests to Asia?
Jacques Ducerf: This problem, which exacerbates the shortage, stems from the fact that Asian organisations are coming here to buy raw material, i.e. round logs, which they then process back in their own country.
Firstly, we would like them to buy sawnwood. In addition, Asian buyers are for the most part ready to purchase more processed goods.
Measures to limit log exports to Asia have already been implemented, but in France, there needs to be more awareness and professionals in the industry, from landowners to wood processing companies and loggers, need to abandon this short term vision to look further ahead. It's in our common interest and it's possible. All the other countries in Europe have managed to take action!
And do you have a personal wish for the new year?
Jacques Ducerf: Well, for it to continue! I have a job that I'm passionate about and teams around me that are very committed and very motivated. I work very closely with Edouard, who belongs to the fifth Ducerf generation and possesses the managerial and leadership qualities that give meaning to his actions. He also has a cousin, Jean-Marie, who is going to join us at the beginning of this year. So I'm happy to see that the sustainability of our company is ensured by the family and also by the teams in place. Because the spirit that's been with us for 133 years is still here thanks to the strong cooperation between the old and the young!