The Sales Division France at Ducerf – a highly committed, close-knit team
2021.04.14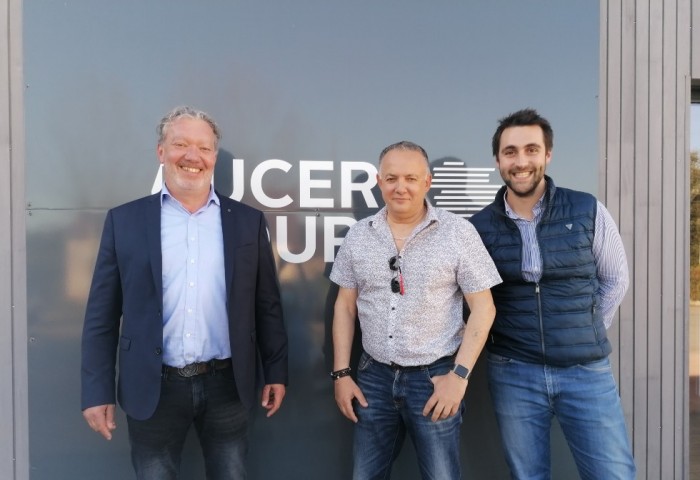 Every day, our teams are on hand to provide advice and support for our customers. And in particular, to determine the products best suited to their needs. How do they do this? With more than 130 years of know-how based on four basic principles: quality, availability, expertise and innovation. Thomas Botti, Nicolas Magnin and Jean-Philippe Laubreton are the faces of the Ducerf team out in the field in France. They told us about the Group's commitment to its customers.
"When it comes to oak, Burgundy is one of the grands crus." Jean-Philippe Laubreton, Sales Manager for the Grand West region at Ducerf, is firmly convinced of this. "This origin is a key sales argument," he explains. Today, more than a third of the Bourgogne-Franche-Comté region is made up of forest. This makes the region one of the most wooded areas in the country. Let's not forget that wood from the forests of Burgundy has always put a twinkle in the eyes of professionals in the sector. From those in the Parisian basin as early as the 16th century, who watched the logs floating down from the Morvan, to those of current-day carpenters involved in the restoration of Notre-Dame in Paris.
"Ducerf has built its reputation on its expertise in local wood species"
So why should wood from here be any better than timber from elsewhere? "It's a matter of climate and of sound management," says to Nicolas Magnin, Sales Manager for the southern regions. "The climate in Burgundy is ideal for the development of oak forests, with harsh and rainy winters followed by relatively generous and sunny summers. These weather conditions boost the quality of the wood. What's more, the efficient management of regional forests, which are home to the most important oak resource in the country. And at Ducerf, we have built our reputation on our knowledge of these local woods."
French timber is a fast-growing source of inspiration
In fact, France is one of the leading countries in Europe for oak production. And competition is fierce with eastern European countries, particularly Romania, with its dense hardwood forests. "Origin France is becoming more and more important to our customers," says Nicolas Magnin. "Of course, price is also a factor. People want to buy French, but the fact that products coming from eastern European countries are 30% less expensive, tempers their enthusiasm. Nonetheless, thanks to our significant reserves and our productivity, we manage to maintain reasonable price levels."
Local sourcing is increasingly popular and end-customer demand is growing. Furthermore, market share for timber construction has increased by 49% for private homes (Afcobois survey 2019) and by more than 30% for industrial buildings. So, French wood can be found in the substructure of the Pop-Up Grand Palais in Paris and soon in the construction of the Olympic Village for the 2024 Olympic Games. The buildings that will host the athletes will be made from more than 50% wood from French forests, proof of the renewed interest in local timber, including policies that are increasingly committed to the sector.
A commitment symbolised by our Bois de France guarantee
A few months ago, Ducerf was in fact awarded the Bois de France certification. "We're proud to be able to guarantee our customers, and the entire sector downstream, that our products are sourced and transformed in France," explains Thomas Botti, Sales Manager France for the Ducerf Group. "It's a weighty argument, even if only a few companies are certified Bois de France so far. It clearly looks as if the market is returning permanently to local resources and traceability."
"Our stock rotations have been constant for 5 generations"
The success of the Ducerf Group is largely due to the fact that for five generations, the family business has been accumulating and renewing its stocks. This is a strong commitment. "Very few of us have such a high level of stock, one of the largest stocks of oak lumber in France," confirms Nicolas Magnin. To achieve this, we have to saw about 130 m3 of timber per day. "The gradual disappearance of sawmills is leading to a mechanical drop in stocks available on the market," he goes on to say. "We have always believed that good stock management is a major advantage on the market, and today it's one of our strengths."
"We always have 6 to 8 months of log supply in advance," states Thomas Botti. "Stock rotation is constant and strategic to ensure the availability of our products. Our sawing operations take place in the summer for the smaller thicknesses and in the winter for the thicker ones. This means that we can be responsive, saw quality products and meet a maximum number of requests: bearing in mind that a 2-cm-thick plank may be sold in the next three months, whereas an 8-cm-thick plank for joinery purposes may not be sold for four years. It is an ongoing concern that requires constant supervision".
The environment is a central factor in our innovations
Wood is increasingly in demand and is becoming more and more attractive to consumers. Oak has an important place in renovation: joinery, interior design, decoration... Ducerf looks further ahead. "Today, wood for construction is 95% resinous," explains Thomas Botti, referring to timber-frame houses as an example. "However, local wood species have their place in the market. We will soon be offering a significant innovation: CLT (cross laminated timber) boards. These are wall panels to be fitted into building frames, and we intend to make them from oak. We are convinced that hardwood will no longer be limited to its current areas of use," he points out.
"THT wood remains a niche product, not yet well-known but with high potential"
Another innovation which makes it possible to enhance the value of other French hardwood species is high temperature treatment (THT). These species – whether ash, poplar or oak – when heat-treated, can be used outside, for terrace decking or as cladding. Explanations.
"The market for exterior timber is mostly made up of tropical wood or softwood, treated or not," explains Thomas Botti. "At Ducerf, we offer an alternative so we can use local wood species, for terraces or as cladding, thanks to a natural treatment without chemical substances."
And yet, marketing these high added-value products is not that straightforward. "THT wood remains a niche product. It is not well-known but has great potential," explains Jean-Philippe Laubreton, mindful of the positive environmental impact of high-temperature treatment and its excellent carbon footprint. "To become resistant, our products are heated with water vapour and that's all: no chemical additives to preserve them!"
Made-to-measure expertise and support
To bring these innovations directly to its customers, Ducerf relies on a sales team that is very much present in the field, from Brittany, via the Hauts-de-France to the French Riviera, and from Bordeaux, via the Massif Central to the East of France region. This proximity network allows for solid support, tailored to the specificities and customs of each region. The team also relies on the Group Design Office, which plays a central role. "The sales teams often come to us for advice, and depending on the complexity of projects, we provide decisive technical support," explains Thibault Chastagnier, Manager of the secondary processing division. Thanks to these rich discussions and the attentive ear of our sales team, customers are guided from A to Z, from design through to completion.
And this is the real strength of the Group and the sales team: the proximity and availability of our teams for customers, the quality of our products, the know-how and innovation guided by powerful environmental commitment.