Finger jointed panels PATCHWOOD®
Patchwood® is an aesthetic and durable panel. It is made of finger-jointed lamellas in their lenght and laminated along the width. It is available in several species and formats to meet all your interior design needs, such as worktops, tabletops, furniture, interior decoration…
Products
Finger Jointed Panels
Width of lamellas: 20 mm and 40 mm (+/-2 mm)
Cut to the available dimensions
Sanded on 2 sides
Individually wrapped in film
Quality A/B
Advantages
Large dimensions available: standard 4 m, possibility up to 6 m
Ready to use
Time saving
Cost-effective
Drying guarantee
Great stability
Optimised storage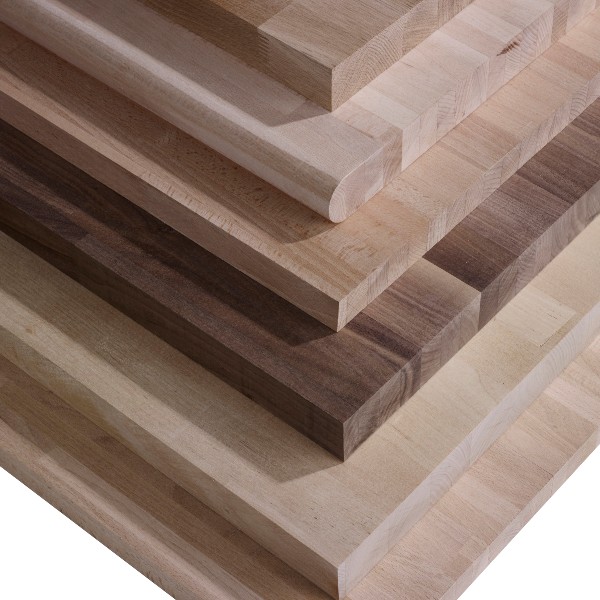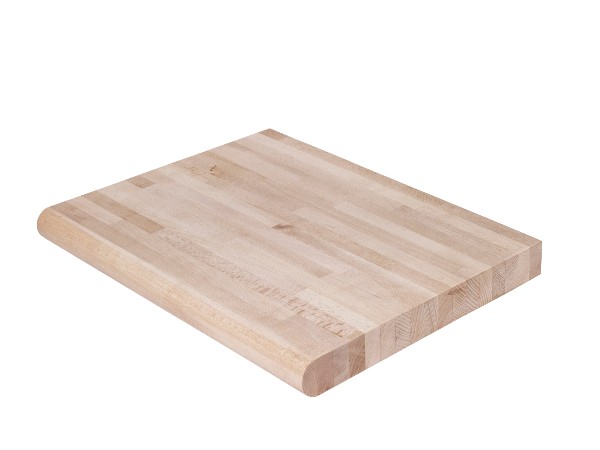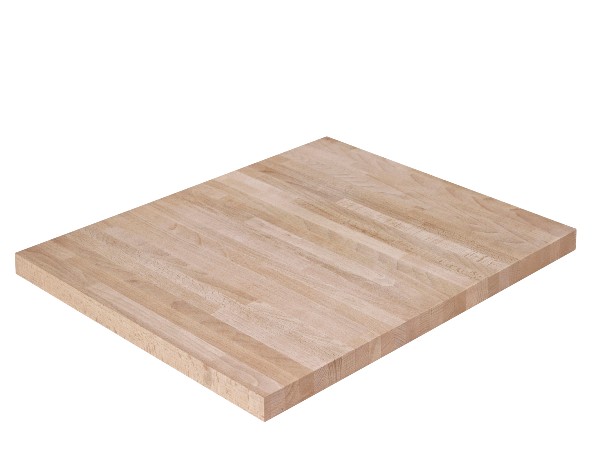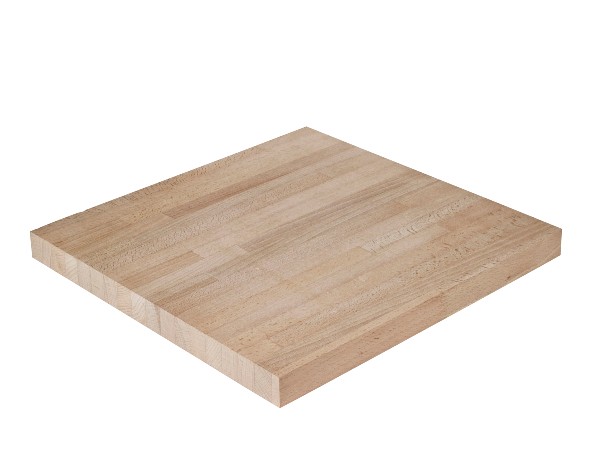 Technical characteristics of finger jointed panels
For oak, steamed or unsteamed beech, ash, Red Exotic Wood:
| | |
| --- | --- |
| Width of lamellas | 20 mm and 40 mm (+/-2 mm) |
| Thicknesses | 19 - 26 - 31 - 40 and 50 mm |
| Width of panels | 950 mm, 650 mm for worktops |
| Lengths | 4,000 mm, and 2,000 mm for worktops (a board rounded on the length) |
For Hevea:
| | |
| --- | --- |
| Width of lamellas | 40 mm (+/- 2 mm) |
| Thicknesses | 18 - 22 - 33 - 44 and 56 mm |
| Width of panels | 1,100 mm |
| Length | 4,500 mm |
| Wooden poles | length 4000 mm, sections 70 x 70 mm or 90 x 90 mm |

The wood used is dried to 10% +/- 2%
For interior use of D3 glue
Check with us for the exterior adapted collage
What is Patchwood® used for?
It is popular for the realization of various layouts:
As a worktop in a functional and convivial kitchen for example: it can be placed in the centre of the room as an island, as a bar table or as a work surface. This glued laminated panel is available with a "worktop" finish, with a profiled edge along the length.
For staircases: ordered in long lengths, this panel is ideal for optimising the flow of staircases or for making stringers. For a trendy staircase, do not hesitate to mix wood with other materials such as steel or concrete.
For customised fittings: as table tops for dining room furniture or reception desks, this panel is also ideal for making customised storage units, such as bookcases or dressing rooms.
In decoration, Patchwood can be used for all the usual uses of solid wood. It can also be used as a frame for joinery.
More original, it can also be used as a decorative partition on a wall, to delimit two spaces or as a headboard for a bed for example, a natural and contemporary effect guaranteed!
Being offered in large sizes, it will satisfy all your needs and all your decorative desires.
You can choose between different species of wood: oak for a warm honey colour, and beech panels ranging from cream to light pink depending on the finish chosen: unsteamed or steamed. If you are looking for a more pronounced wood grain, we offer ash panels in light shades.
What are the advantages of a glulam panel?
An infinite number of possibilities
Patchwood® can be worked according to the needs and constraints of the project and consequently allows for tailor-made designs. Dimensions, species, panel shapes, edge machining, cut-outs, this panel offers many possibilities and this without losing strength and without risk of breakage.
Possibility of ordering it in special dimensions in order to carry out works of great length, in standard dimensions 4m and on request up to 6m = Optimization of the outputs, important output with the cut.
The design of this panel by finger-jointing and edge gluing gives us the possibility of producing thick panels for specific applications (for works requiring a lot of rigidity, such as a floor for example)
This panel being solid, it is possible to imagine all types of machining of the edges and cut-outs inside the panel (to fit a sink for example) without loss of aestheticism.
Sanded on both sides, it is ready to use and can be finished with oil or varnish
Resistance
The glued laminated panel is made up of an assembly of solid wood strips that are butt-jointed and glued, which gives it great mechanical strength.
It meets the requirements of stability and solidity while offering an aesthetic and natural appearance. This is why this ready-to-use panel is an asset for interior design projects.
available species