Bois & Bains furniture
Solid wood furniture by Bois & Bains
The Bois & Bains furniture brand
Bois & Bains is a French company, created by two lovers who are passionate about solid wood, its transformation and the contemporary materials that accompany it.
Benjamin Morel is a cabinetmaker-designer, in charge of production and Xavier Vincent is a designer, specialised in assembled wood furniture. Their teams design assembled furniture for customers who are concerned about choosing environmentally friendly and sustainable materials for furniture designed with French know-how.
The making of the "Josephine" bathroom furniture
For this bathroom furniture, the designers were inspired by bi-plane planes! The idea was to produce a light and functional range that would also be useful for storage.
JOSEPHINE 170 in finger-jointed walnut lamellas is a very contemporary design. It is a cabinetmaker's piece of furniture made of butted solid wood and mdf stained in the mass. It has been designed to be practical, functional and elegant.
This collection of eco-friendly bathroom furniture is made in France with a traditional assembly.
All the furniture is assembled with tenons and dowels (completed also with mortises and rabbets). No nails, no screws, but a real "cabinet making" quality.
The glued laminated panel PATCHWOOD in walnut, ideal for creating furniture
For this piece of furniture they chose a solid wood laminated panel from our Patchwood range, in 20mm strips (this panel also exists in 40mm strips). In a bathroom where the key word is relaxation, choosing wooden furniture creates an atmosphere as close to nature as possible and therefore relaxing.
In this case, walnut, the most recognisable of all brown woods, provides a real decorative advantage. The fine grain and golden hue give a refined style to this solid wood construction. The Patchwood walnut panel is available here in an oiled version.
We love the bold combination with the bright mustard yellow valcromat. The contrast is original and balanced. This mix of materials gives a trendy and modern look to the furniture.
The advantages of Patchwood glued laminated panels for interior design
Aesthetics and creativity
Patchwood® is an aesthetic and resistant panel. It is made of finger-jointed lamellas in their lenght and laminated along the width. It is available in several species and formats to meet all your interior design needs, such as worktops, tabletops, furniture, interior decoration…
As the panel is solid, it is possible to imagine all types of edge machining and cut-outs inside the panel (for example, to fit a washbasin or a sink) without losing its aesthetic appeal.
The panel can be adapted to your needs in terms of shapes and cut-outs and can therefore be made to measure.
As a ready-to-use panel, it will save you time in the production of your work. Sanded on both sides, it can be finished to meet all your requirements. (oil, varnish...)
Resistance and durability
The glued laminated panel is made up of an assembly of solid wood strips that are glued together, which gives it great mechanical strength.
It meets the requirements of stability and strength while offering an aesthetic and natural appearance. This is why this panel is an asset for interior design projects.
Designer: Bois & Bains
Ducerf product : PATCHWOOD panel in solid walnut with 20 mm strips
Rubio oiled finish
Credits : Bois & Bains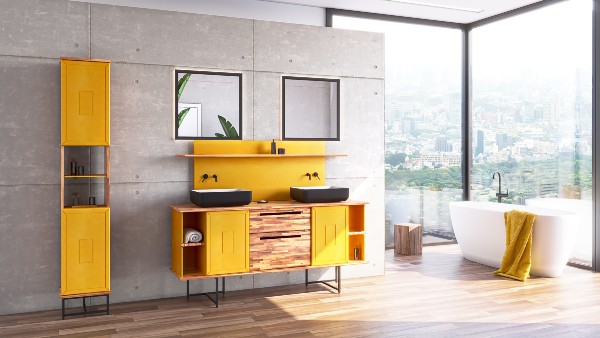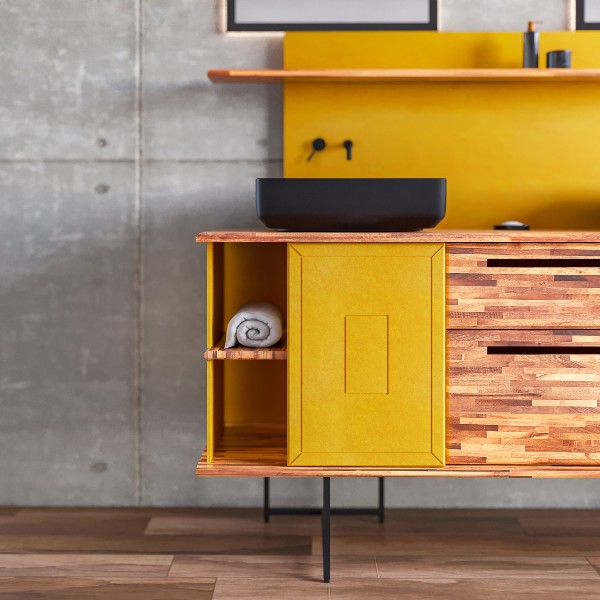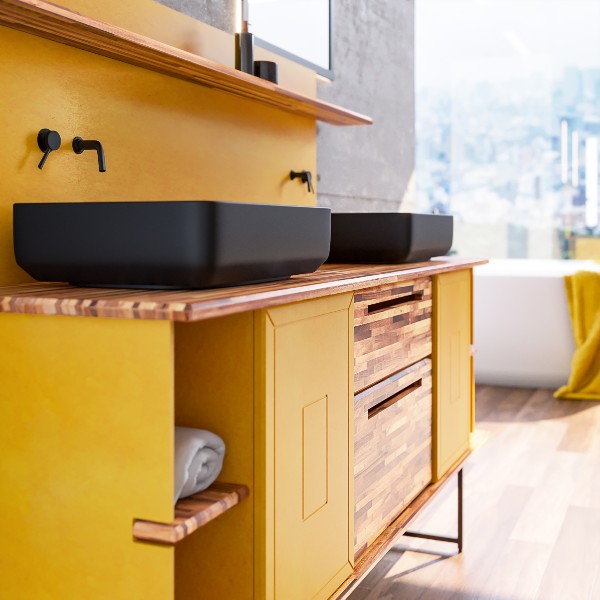 Products used
Species used
Other references