Local Departmental Offices of Lot

St Céré (46)- France
Wooden cladding for responsible architecture.
Constructing a public building is not simple when it has to follow an environmental approach as well as maintain a balance between its visual identity and its professional identity as the local offices for the department of Lot.
These objectives were met by choosing hardwood, a prestigious and natural, living material with intrinsic qualities including CO2 storage even after transformation.
The wooden cladding gives the building elegance and clean lines.
Project commissioned by: Conseil Général du Lot (Lot Departmental Council)
Architects: Agency phBa - Architects Philippe BERGES and Caroline LAFON – Figéac (46), France
Cladding BARD 105 profile type clerestory Côtéparc®
Material: natural finger jointed oak boards
Sections: 48 x 70 mm
Installation type: Clerestory on sub-frame
Volume of wood: 138 m3
Photo credits: Nelly BLAYA – Lot Department Council, Architect Philippe BERGES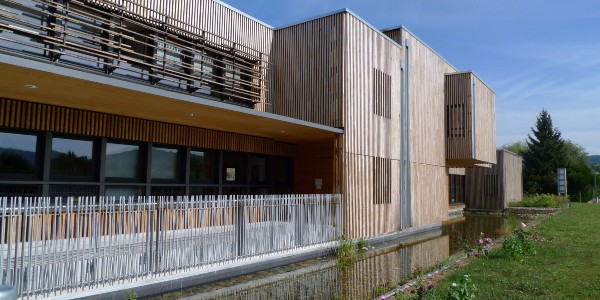 Products used
Species used