Tiny House - TYBIVOUAC

France
Discover the French Tiny House manufacturer Tybivouac!
A trendy and ecological wooden concept
TYBIVOUAC is a brand with a strong identity, developed by Rodolphe Duranceau and Jimmy Lugaz, and is a designer and manufacturer of nomadic and eco-responsible micro-habitats. "We met in the design office of our previous employer, a company that manufactures playgrounds for children. My sister, who bought a tiny house three years ago, was the catalyst. We were both in the midst of an entrepreneurial phase, and this was the perfect opportunity to combine our complimentary skills to form a tiny house construction company "Rodolphe, co-manager and carpenter at Tybivouac, adds.
Let's have a look at their abilities: Rodolphe Duranceau has a first training as a carpenter / wood frame builder and a second in entrepreneurship and project management, while Jimmy Lugaz has a first training as a carpenter and a second in product design.
This company, based in the French area of Deux Sèvres, today provides its customers high-quality constructions that promote French know-how and an environmentally sustainable approach while maintaining a unique aesthetic signature.
In order to maintain the earth, their proposal focuses on distinct configurable dwellings that are mobile or fixed without foundations.
"The objective was to support this new kind of light habitat as a possible solution to the current housing crisis."
A selection of materials that complement local resources
The use of environmentally friendly and locally sourced materials, in order to have a low carbon footprint, is at the heart of the Tiny house design. They chose Made in France for practically all of their supplies because of this commitment.
The wooden frames of the Tybivouac cottages are sourced from French woods. The interior plan was created with poplar plywood and solid poplar for some of the furniture, all with meticulous attention to detail and a focus on the functionality of the space.
One of the challenges was to achieve these stringent requirements while staying within design and weight limits. A tiny house on wheels must not weigh more than 3.5 tons.
A wooden cladding made of thermo treated poplar, light and durable
They approached the Ducerf group in search of a wood cladding that fulfilled their requirements as part of their hunt for a company that employs sustainably managed resources. Poplar is a fast-growing indigenous species in France that is also noted for its lightness, thus thermo treated poplar cladding from
the CotéParc range
was an obvious choice.
Rodolphe affirms, "This range of cladding seemed quite interesting to us and had already been tried on tiny-houses projects."
A species made durable by the high temperature treatment (THT), a 100% natural treatment, this product has an increased resistance to insects and fungi as well as a better dimensional stability.
In terms of aesthetics, high-temperature-treated poplar offers a warm, contemporary colour that will evolve into natural shades of grey.
These cladding lamellas therefore offer many technical, aesthetic and environmental advantages for exterior design projects.
Model shown: TYTradi 4 m
Products: THT poplar cladding strips from the Coté Parc Ducerf range
Photo credits: Tybivouac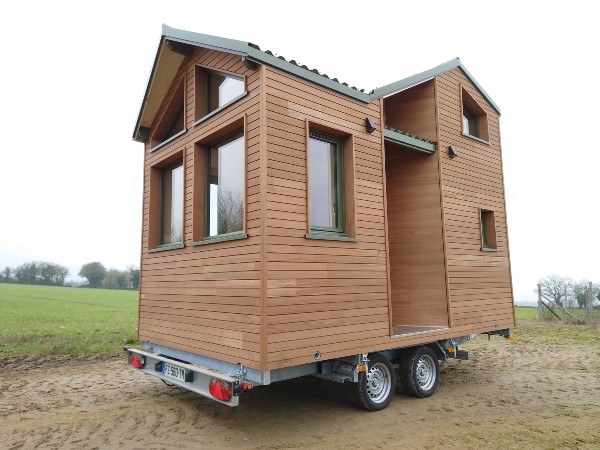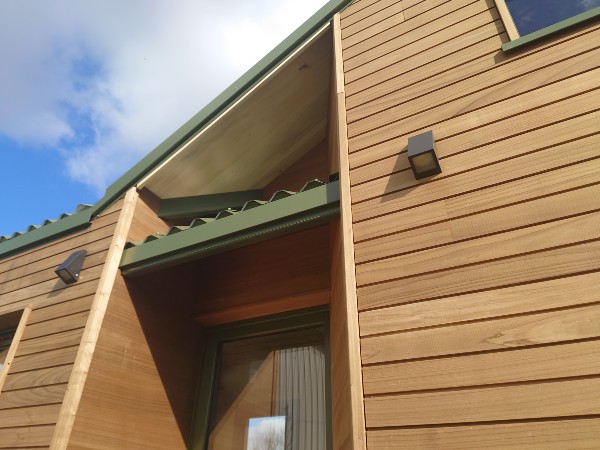 Products used
Species used