Ducerf launches the new graphic panel YD-WOODS© No.1, Design by Sylvain Hardy
2019.10.23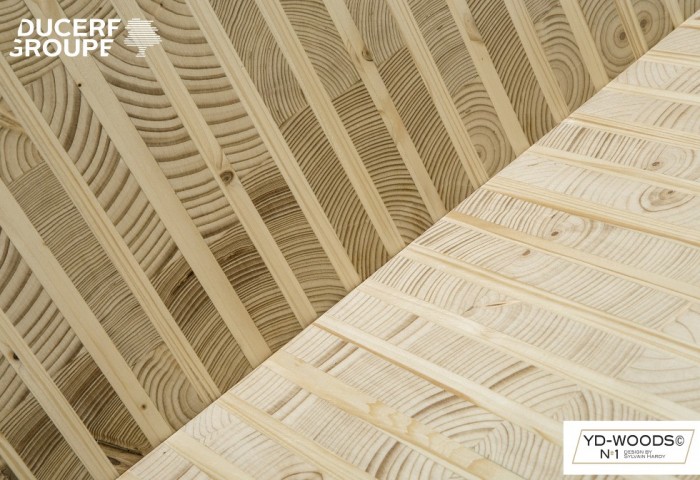 The result of an alliance between a dedicated designer and an innovative manufacturer, it offers interior design professionals in particular a differentiating, ecological and refined solution. The YD-WOODS© No.1 panel, the latest addition to the Bois Profilés range, a second transformation site of the Ducerf Group, is now on the market. Presentation…

"With its design and contours, it's a product that immediately catches the eye and leaves no one indifferent. It completes our panel range and clearly has a promising future ahead..." These are Thibault Chastagnier's words. The Head of the Ducerf Group's second transformation division was the first to meet the Avignon-based designer, Sylvain Hardy. He decided to invest in this new type of panel and sealed the partnership agreement.

Won over by the originality of the product and the designer's approach
"When he revealed the samples to me, I wondered at first how he was able to do it. The product seemed extremely complex. In reality, he starts from a semi-finished product, producing added value to a mass market commodity, to produce a new material with a superior aesthetic quality. Sylvain Hardy argues so enthusiastically, that you find yourself digging a little deeper and ultimately you become convinced." A feeling shared by Karine Beurel, Head of Marketing and Communication for the Ducerf Group, who when she visited his workshop in Avignon (Ydrah), immersed herself in the artist's universe. "He's a champion of the soul of a somewhat atypical environment, a bit like upcycling, but with a sensorial approach to the medium, maybe even spiritual, dare I say. Through his creations he wants to recreate, re-establish the everyday connection between nature and mankind. He works with matter to embellish it, shine a light on its identity in a world where we no-longer look at what surrounds us, where we do too many things by habit and without sensitivity. Wood is a living material with many advantages. This attitude is in line with our commitments. "

Ducerf's know-how to industrialise an exceptional material
It is this encounter at the crossroads of mankind and expertise that has led the Ducerf Group to exclusively put YD-Woods© No.1 on the market today. This panel in cross-ply glulam, is made up of alternating end-grain and threaded wood plies The wood's natural rings give finished patterns to the random and rounded shapes for a unique finish. For production, done on the panelling line at the Bois Profilés plant in Charolles, experiments have been carried out and the species chosen for this first model is spruce. "What is so attractive about this panel is the alternating threaded and end-grain wood plies as well as the spring and summer growth rings," explains Thibault Chastagnier. "This is possible with the relatively rapid growth of softwoods. The same effect is not found with a slower-growing hardwood." However, the search continues. "We hope to find hardwood species, like acacia, that may also allow us to obtain this graphic rhythm."

Targets: specifiers and wholesalers​​​​​​​
Sanded on both sides, available in sizes (1,220 mm wide, from 2,000 to 4,800 mm in length), widths (19 to 90 mm) and finish as per the customer's wishes, the YD-Woods© No.1 panel is mainly aimed at the interior design market, for a vast range of uses: furniture, worktops, table tops, doors, wall panels, stairs, partitions, sculptures… "It is perfectly suited for specifiers: interior architects, planners, interior designers... Because not only is it a product that visually attracts with its very graphic and invariably unique appearance, but this solid panel is also very close to marquetry. So we propose it to wholesale wood distributor networks and importers," says Karine Beurel.

YD-Woods© No.1, a promising product to discover​​​​​​​
Reception so far has been extremely positive. "We have already received very encouraging feedback from our digital publicity campaigns and our first sales presentations. Florence Perrucaud, our import-export Director, has, for example, customers in Europe who are extremely interested." These requests echo the numerous calls from architecture firms and designers who discovered the product in material banks in which YD-Woods© No.1 is referenced, such as Material District.
This graphic panel also made a marked entrance at the Paris Design Week at the beginning of September with its display at the exhibition "Noir & Sens, touchons du bois" staged by France Bois Forêt. "There was anticipation in the air! For the event, we had conceived and designed with Sylvain Hardy, a stylish counter combining high temperature treated ash and the Yd-Woods No.1 panel. The main idea was to present several different ways of working with the solid panel and the rhythmic graphism of spruce using varying thicknesses, in marquetry style, then the interplay of materials." A successful start with the general public and designers alike.
Finally, Yd-Woods© was presented in the incubator of innovative materials chosen by the FCBA for the innovatech of the Architect at Work trade fair in Paris on 26 and 27 September.
Next high point, its presentation at the 10th International Wood Construction Forum at the Grand Palace in Paris in April 2020…