Florence Perrucaud, Ducerf Exports: "to be forward-thinking and to not depend on a single market"
2018.03.07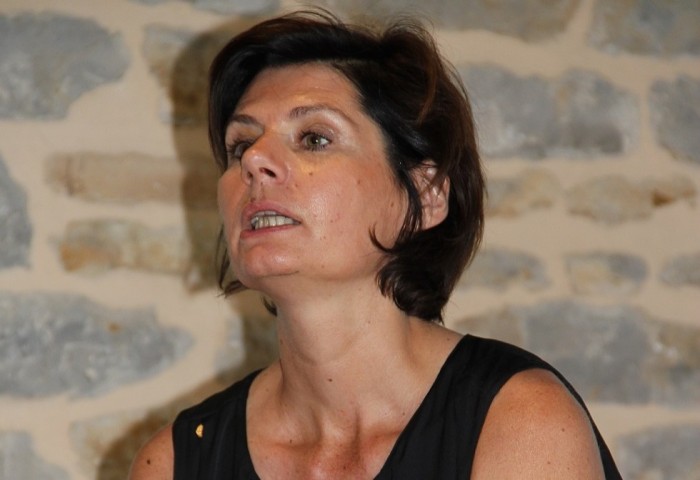 That symbolises Ducerf's winning spirit. For over thirty years, the group has been driven by a constant resolve to expand into new markets, in Europe, China and India... And it is a successful policy, because today, 50% of the group's turnover comes from exports. However, it is also a policy that requires specialist knowledge of markets and unfailing administrative expertise! Here is Florence Perrucaud, the Ducerf Group's Import and Export Manager, to paint us a picture of the industry...

Can you present the Ducerf Group's export team?
Florence Perrucaud: The first thing I should say is that we are a very close-knit team, with lots of expertise and experience. And we need it, because today, exports make up around half of the group's turnover (65% is first transformation wood and 40% is second transformation wood)! In the export department, we have Chantal Jugnet, the Head of second transformation wood, and Virginie Descharmes-Sfiligoï, the Head of first transformation wood. They have worked for the group for 29 and 13 years respectively, and they take care of the entire administrative side, which requires a huge amount of organising. For example, Virginie manages maritime traffic (around 500 containers per year), a very large number of lorries in Europe, export documentation, and also tenders and the commercial back office for clients spread across fifty countries. I have worked in the group for 28 years, and I manage imports and exports. I "win contracts" and work with production on various sites. And for a few months now, we have been joined by a field and administrative sales representative, Manning Ding, who has mainly been dealing with the Chinese market. She is our third Chinese colleague already. I have to say that Ducerf was one of the first companies, if not the first, to expand into the Asian market fifteen years ago and have its own Chinese expertise.

Two new countries each year and a five-year deadline
How exactly do you manage to break into these foreign, and often highly competitive, markets?
Florence Perrucaud: Our strategy is to be forward-thinking and to not depend on a single market. But obviously, we cannot explore fifty new countries at the same time, so we give ourselves a target of two new countries each year with a five-year action plan and deadline. For example, in India, a market in which I really believe, I invest, take part in a trade show and meet local stakeholders, without having to make solid developments or create turnover straight away. We know that you need at least two years of exploring a new market before breaking into it. This patience enables us to achieve lasting results. We did this in China. During the first two years, we did not get any orders because we were pioneers and the first in the market. But it worked.
And then the fact that we have branched out helps us to offset fluctuations in activity levels and exchange rates, etc.
How do you identify which markets to conquer?
Florence Perrucaud: We choose them by focusing on potential. For example, has furniture and flooring manufacturing or restoration already been developed in this country or will there be any in the future? Are they already importing a lot of hardwood from the US? That is a strong indicator of the demand for oak. Specifically with oak, we will always have our card to play; the French resource is one of the largest in Europe because the sustainability of the oak resources in France is a great motivation for our large export clients when it comes to choosing their suppliers.

Ducerf was the first to export to far-away countries
And what are the high-potential markets?
Florence Perrucaud: So, India. Even if developments are quite slow there because of the market's complicated administrative system, given the cost of labour and shifts in global production in all industries, woodworking is one of India's high-potential industries. India is also unusual in that it only wants solid timber.
We also focus on other Asian countries, North Africa, Australia and the US. And then in Europe, in certain Eastern countries.
What are Ducerf's export strengths?
Florence Perrucaud: First of all, being the first to export to far-away countries. Today, our team has a lot of experience in administrative productivity. It is difficult to export containers across the world while ensuring a personalised service for our clients. Then, in terms of production, you must be able to follow up with a large volume to enable a manufacturer to have regular production. Ducerf is able to provide sufficient volumes of wood and monitor quality, which is a complex issue with regard to oak. These strengths help us to be flexible and responsible when processing orders between tenders and delivery.

Ducerf is recognised by key players
Are people abroad aware of French oak?
Florence Perrucaud: When we arrived in China fifteen years ago, it was difficult because no one knew what French oak was. Since then, thanks to the groundwork carried out by manufacturers and the French Timber association, who have helped us enter uncharted territory and develop our communication, the situation has changed, and we can sense an awareness. Today, with the Internet, social media and globalisation, information travels a lot more quickly. I think that we are recognised by key players, because we have also invested a lot into educating our clients. We constantly receive requests from all over the world. You must constantly question yourself, stay humble, adapt and be responsive.
What is the role of the French Timber association, of which you are the Vice President?
Florence Perrucaud: It is an association attached to the National Federation of Wood (FNB - Fédération Nationale du Bois), which aims to promote French wood abroad, across all sectors. French Timber was created seventeen years ago by Jacques Ducerf, who has managed to unify a team and take part in sixty international trade shows. During these trade shows, the association unites several exhibitors under one banner, who then present their different species of first and second transformation wood. This gives them more visibility.
Beyond these efforts, French Timber works in unknown markets that are being developed and explored. It creates networks around the world, and it also works on standards. For example, helping and encouraging French companies to obtain standards for exporting towards countries like the US (such as the US standard for softwood, etc.), without which you cannot export.
French Timber also helps to unite interbranch organisations, share ideas, improve and make collective development efforts.

A lot of ambition for the India Wood and Fensterbau Frontal trade shows
So, you are flying to Bangalore in India to take part in the India Wood trade show, one of the most important events this year...
Florence Perrucaud: Yes, India Wood is the largest trade show in India. It is a chance to meet all our clients, take orders and continue to promote our new products, such as second transformation wood. I would also like to take the opportunity to visit my partners. We have been exploring the Indian market for four years. It has taken quite a long time but you must not stop if you believe in it. We have received enough orders to say that it is worth it. We already make up 50% of the market share for French oak exports according to statistics recently published by French Timber!
In 2018, the group's trade show efforts are also taking it to Germany, with Fensterbau Frontal in Nuremberg at the end of March...
Florence Perrucaud: This trade show is different; it is only for second transformation wood, because it is THE world trade show for window manufacturers! It attracts a very professional audience. This year, we are going to have a large stand to showcase our HDF glulam oak scantlings. This is an innovative product covered in HDF (High Density Fibreboard) panels. The advantage is its surface treatment; it has a really beautiful finish and meets the drastic fire safety standards in Switzerland. So we have quite a lot of ambition for this trade show. Even in the long term, a trade show will always bring benefits if it is well-targeted.
We can tell you are passionate about your job!
Florence Perrucaud: Yes, it is a demanding, yet exciting job! You need to be curious and want to adapt. Exporting enables a company to not be vulnerable and to expand into other markets. It is stimulating because success depends on your teams, on their operational skills and, above all, on their ability to react. At Ducerf, our experience enables us to approach emerging markets well and understand them. That is our strength! However, nothing can be taken for granted. In exports, we could sell fifty containers today and nothing tomorrow. You must always question yourself, and I think that is why exports are special; you must be opportunistic and analytical at the same time.