Jean-Marie Ducerf, 5th generation of leaders: "Quite a lot of pressure of course, but a warm welcome!"
2019.01.17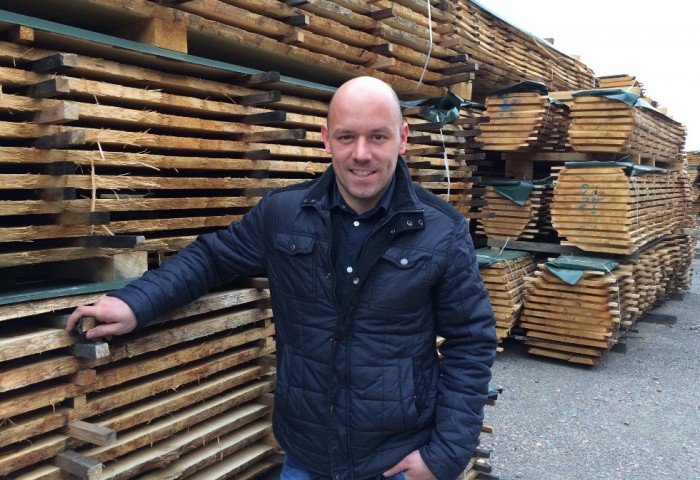 Rich with 133 years of history, the Ducerf group has been experiencing a period of natural renewal in its own right with the arrival of the 5th generation of leaders. Following Edouard, who currently holds the position of Deputy General Manager, his cousin Jean-Marie Ducerf joined the company in 2018.It was a natural choice for mechanics enthusiast, who sees "stimulating and exciting" challenges for the group over the coming years. Learn more…

What were you doing before joining the Ducerf group?
Jean-Marie Ducerf: I studied at INSA Lyon and graduated in general engineering, specialising in mechanics. This area is my passion and when I left school, I had the opportunity to join the Ardèche company, Pipo Moteurs in Guilherand-Granges, near Valence, where I spent nearly 10 years. This is a company which designs and manufactures racing engines. I was in charge of workshop management and engine development. It was exciting work collaborating with brands such as Ford and Hyundai for the WRC rally world championship. I participated in test sessions and rallies and oversaw the assembly and operation of cars. It gave a great deal of satisfaction, but it took a lot of time and commitment. You were travelling round the world for 180 days a year!

"It was the desire to get involved in something else that was important to me."
Did you already intend to join the family group one day?
Jean-Marie Ducerf: Growing up in the Ducerf world, and bearing that name, it was always in the back of my mind, and there's an emotional attachment. Especially since I worked at the various companies of the group each summer when I was younger, whether in Charolles or Vendenesse-les-Charolles. So I already had a clear vision of the timber industry and the values of the company: human values, authentic, and obviously, family values. Nevertheless, I wanted to gear my studies according to what I liked at the time, which was, as I told you, mechanics, and I also wanted to gain more experience in motor sports. Over the last few years I gradually realised that I wanted to get involved in something new that was important to me, and to join the company that the family has owned for 133 years now. I made my decision about 2 years ago, when we started planning for my becoming part of the group.
How did you become part of the company?
Jean-Marie Ducerf: Bearing this name (son of Pierre Ducerf), it was bound to be a challenge, and there was a lot of pressure on me. I asked myself if it was the right choice? How would I take my first steps? How would the staff treat me? But Jacques, Edouard and I discussed the integration process, and I received a warm and natural welcome from all the employees. Today I do not regret my choice, on the contrary! I feel fine at the company. I have gradually realised that bringing a new generation into the group can be reassuring for people, and I am determined to continue the "work" of the family and the generations of employees who have helped make the Ducerf Group what it is today!

"The wealth of our company is its employees"
What were the highlights of your first few months?
Jean-Marie Ducerf: Although there were no surprises, as I have always been around, I became aware of the qualities of the staff working at the various companies and sites. Today, the wealth of our company is precisely its employees. They are the key to the success of Ducerf. And from the inside, we promote moral and ethical values, as well as family ones. We are not a large multinational. We listen to everyone and try to understand them. There is a real entrepreneurial spirit here. Synergies, commitment and inter-generational harmony are our strengths for the future.
What is your role today?
Jean-Marie Ducerf: I have been the sawmill manager for about 8 months and I have been working closely with Jean-Marc Cauvas and Sébastien Grisard on this task. We oversee the efficiency of production to ensure optimal product quality for our customers. To achieve this, we organise the daily work at the sawmill and distribute skills according to needs and production targets. The equipment aspect is obviously very important, as is staff management. We are currently at a turning point and several people will be retiring over the coming years, pillars of the company, some of whom have spent their entire lives at Ducerf. We must, therefore, plan for this situation and keep an eye on the job market. These skills and profiles cannot be replaced overnight. In recent months we have started the recruitment process for around a dozen people, as well as some temporary workers, along with the development of a training scheme. It is these types of challenges and the global vision they require that I like about this business.

Goal: to become the industrial manager of the group
Do you already know how you will progress within the company?
Jean-Marie Ducerf: Naturally, the position that suits me best today and that I would like to occupy, ultimately, is that of industrial manager of the Ducerf group. That's to say, working on the management of schedules, analysing production indicators, setting up a strategy for the mechanisation of certain stations... Projects related to productivity gains are very important, not only for the financial health of the company but for the well-being of the staff, as they include the design of more ergonomic workstations, as well as better working conditions. Physical work didn't bother previous generations, our parents' generation among them. Accident prevention is now a fundamental issue, as is the arrival of new technologies.
Indeed, Edouard and you, as members of the 5th generation of the Ducerf family, have the difficult task of taking the group through the digital shift...
Jean-Marie Ducerf: Even though the previous generation started this shift, my cousin Edouard, who joined the group a few years ago, and I, are immersed in technology and know how to use digital tools. For us, it will be a major challenge to ensure that the Ducerf group accomplishes the digital revolution under the best conditions and that everyone adapts to the new tools and processes. At industrial level, we have had, for some years now, an ambitious investment policy in place, and this will continue for the next few years. Even if some of our staffs' skills, such as their expert eye and experience, can obviously not be replaced, technology should enable us to improve our performance and productivity. Overall, all these challenges are stimulating and exciting!
And will a 6th generation follow in your footsteps?
Jean-Marie Ducerf: I hope so, but for that to happen, Edouard and I will have to get to work!