A cottage style kitchen

France
A cottage style kitchen in wood
How could you not fall in love with this large kitchen, where everything fits together harmoniously with a subtle balance between the choice of materials, textures and colours. A very successful result where classic, English and even vintage codes are perfectly blended. All the furniture was made to measure by our cabinetmaker partner, the « Atelier Chaillou Hermouet ».
The advantages of oak furniture :
Solidity: if it is well maintained, oak furniture can be passed on over several generations
Robustness: oak is shock resistant.
Resistant to humidity: oak, when finished, is not affected by humidity or the effects of condensation in living areas.
Thanks to its high resistance, oak is perfect for this type of project.
Oak is very popular with cabinet makers and carpenters thanks to his high quality. It is also a sustainable local wood. It has the advantage that it can be combined with any type of decoration.
Oak furniture is also easy to maintain.
An authentic and robust kitchen
Here we find a large kitchen that opens onto the garden and the living room and is organised around a nice central island and lots of storage units.
The chic and traditional cottage style is enhanced by furniture made of curves, mouldings and grooves. The elegance of this kitchen is also hidden in the details such as the grey round handles, the blue cooking area placed under an old-fashioned masonry hood. For the retro style side, there is even an original kitchen sink!
Wood rhymes with authenticity and here the decorator has chosen to assert this authentic aspect with well-chosen elements, such as the hanging lamps, the made-to-measure log in raw wood and the glass roof.
What better than oak to illustrate this decorative style by bringing charm and character to the room. Here, all the furniture is made of solid oak and has been repainted in white to contrast with the black stone worktops and floor.
The result? A kitchen with an elegant, noble and timeless look
A kitchen that makes you want to put everything on hold to cook and spend time with family and friends!
Product : Ducerf solid oak blocks
Client : Private individual
Cabinet maker: Atelier Chaillou Hermouet
Photo credit: Chaillou Hermouet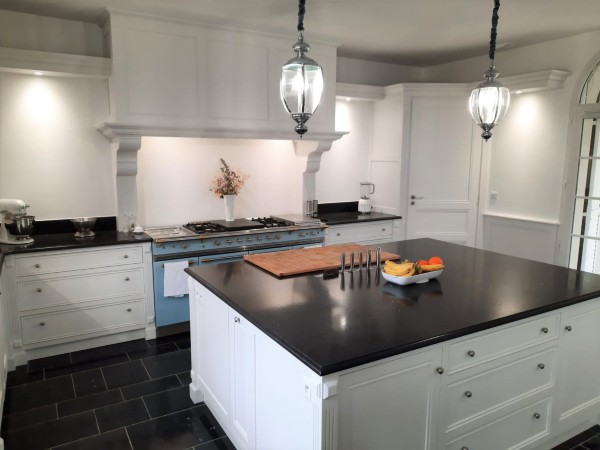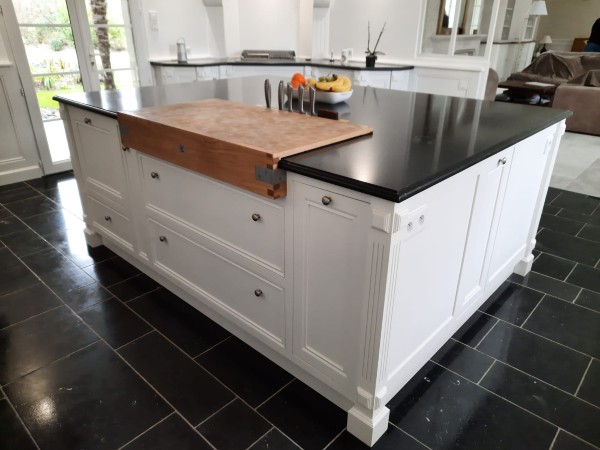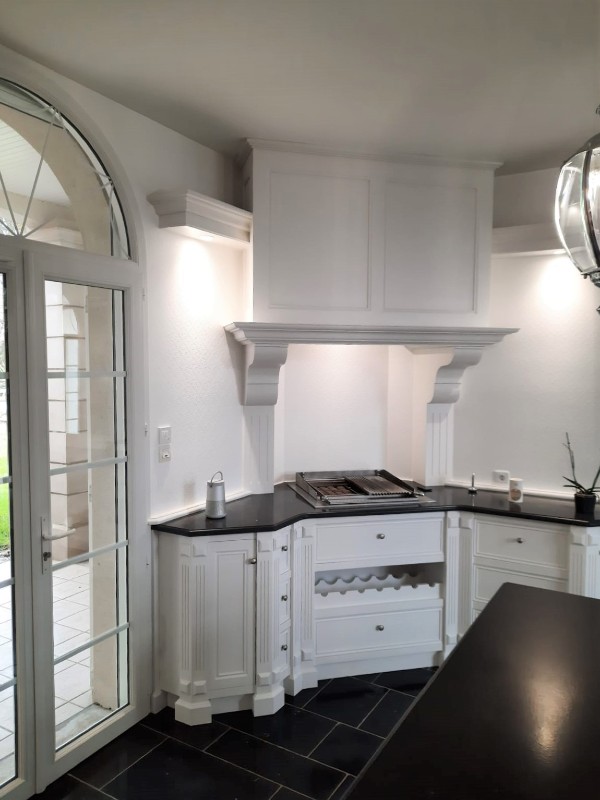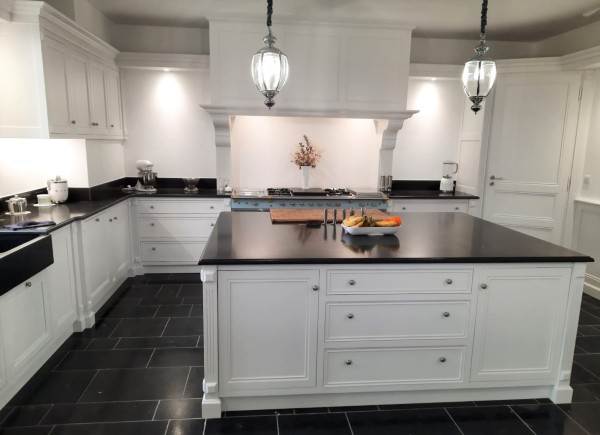 Products used
Species used