Interior fitting with a claustra

France
Modernity, design and luminosity for this living space fitting with a claustra
Modernity, design and luminosity, this is how we could sum up this interior layout designed and carried out by the creative cabinetmakers Chaillou Hermouet for one of their clients who wished to rethink the entrance-living area of his house.
The challenge? To create an entrance without losing light and add storage space in the living room.
The Chaillou Hermouet teams therefore proposed the project of a claustra, and chose oak, a noble species known for its durability and great aesthetic qualities.
Remember that the claustra is a panel that serves as a separation between two spaces. Trendy and decorative, this wood screen wall fits into this living space with great style.
On the entrance side, the claustra serves as a separation but also create a bond with the living room, without narrowing it and it brings light through. The coat hooks make it very practical.
On the living room side, it reveals its decorative assets. The claustra plays on the verticality and makes the room look larger. It is completed by storage modules and shelves, also in solid oak.
What clients love: the new layout of the room, the marriage between the warn colour of the wood and the wall coverings.
Product: Oak boules- Ducerf
Project commissioned by : Private client
Cabinetmaker: Chaillou Hermouet (85)
Photo credit: Chaillou Hermouet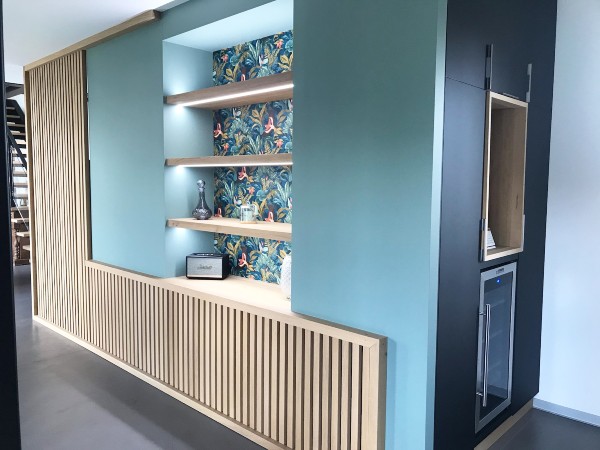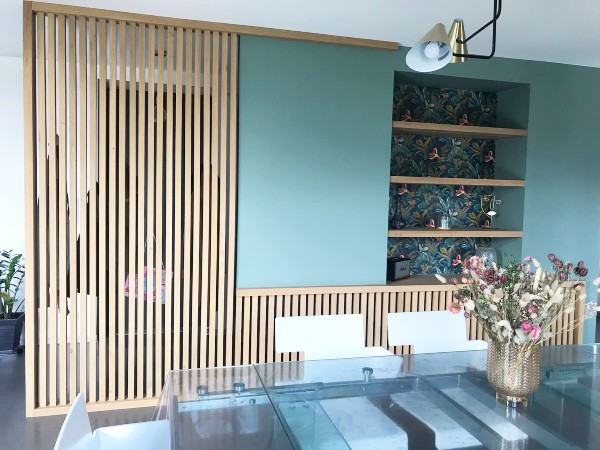 Products used
Species used
Other references