The Palestra aquatic centre project

France
The Palestra aquatic centre project
The Palestra aquatic centre is located in the heart of the town of Chaumont in France : it is a multi-activity complex that combines aquatic spaces, well-being and a multi-purpose hall.
With its modern and innovative look, this exceptional complex designed by the Lyon-based architectural agency CHABANNE, welcomes its visitors to enjoy sports, games or relaxation in its many areas.
A large wellness area with numerous facilities: saunas, hammam, whirlpools and solarium.
A hybrid project combining sport and culture
The project includes 3 indoor pools, an outdoor pool and a large hall that will be able to host international matches as well as shows with a 2000 spectators in its sports version and 3200 in its cultural version.
The sports hall and the aquatic centre are linked by a reception area that brings together functions common to both areas. Particular attention has been paid to the overall quality of the structure to maximise the experience of visitors when they discover these new facilities.
This project has also been designed to be in relation with its environment. It incorporates several energy and environmental solutions, including photovoltaic and thermal panels on the roof, thermodynamic dehumidification, dual-flow ventilation, variable speed auxiliaries, LED lighting and heat recovery from waste water. (from Chabanne website)
Wood cladding, a technical and aesthetic solution
The firm was looking for a solution offering both a strong aesthetic added value and an efficient answer to the regulatory constraints in terms of fire resistance, for the aquatic and relaxation pool areas.
The Ducerf Group was able to meet a major challenge of the project: the fire regulations. The application of intumescent finishes allows to improve the reaction to fire of the wood cladding, and thus to prevent any fire outbreak. Our boards were given a Fibex 2467 intumescent finish to obtain an M1 fire reaction classification and meet the regulatory requirements for a building open to the public.
This wood cladding also provides acoustic comfort. Indeed, the sound of the rooms will be different, with less resonance and will give the impression of a relaxing space.
The implementation in the different spaces
The interior design around the pool and in the SPA area was carried out with our range of cladding to obtain the highly sought-after look of wooden wall strips. The use of wood with other materials such as concrete brings a modern style to the project.
In the aquatic area, the balance between the installation of the cladding, the water basins and the rough concrete walls brings perspective and volume to the overall architecture. A very successful mix!
In the relaxation area, the cladding is used as a partition to delimit certain spaces or corridors, and as a decorative wall covering, particularly around the Jacuzzi. The warm and zen look of wood is particularly meaningful here.
The use of cladding in the two areas of the aquatic centre brings coherence to the whole project, with wood as a common thread.
Project owner: Chaumont Urban Area
Project manager :
CHABANNE ARCHITECTE architect
CHABANNE INGENIERIE metal structure, fluids, HQE, economy, VRD
ECHOLOGOS acoustic design
SCENARCHIE scenographer
BETC concrete structure
CARPENTER Mouton
Photo credits: Erwann Pencreach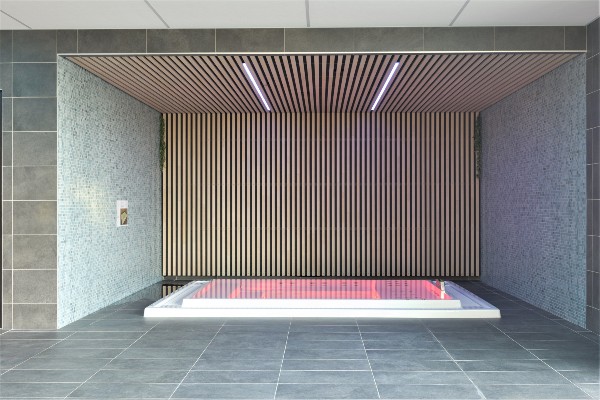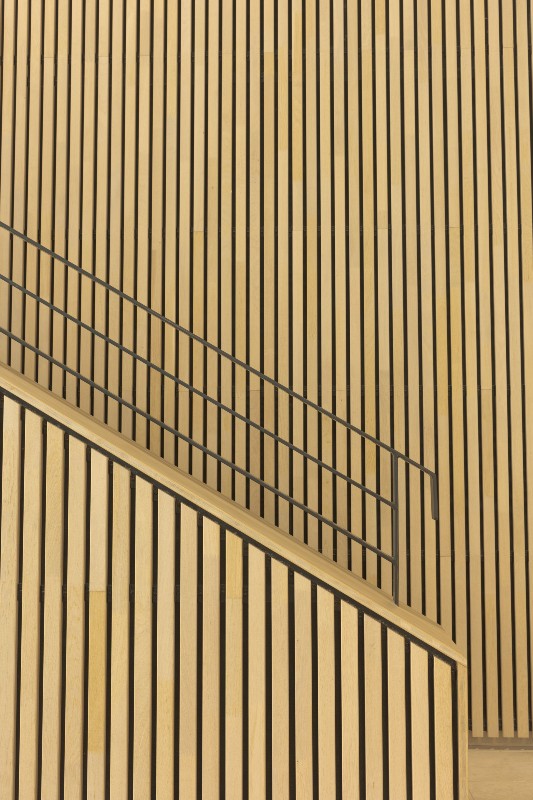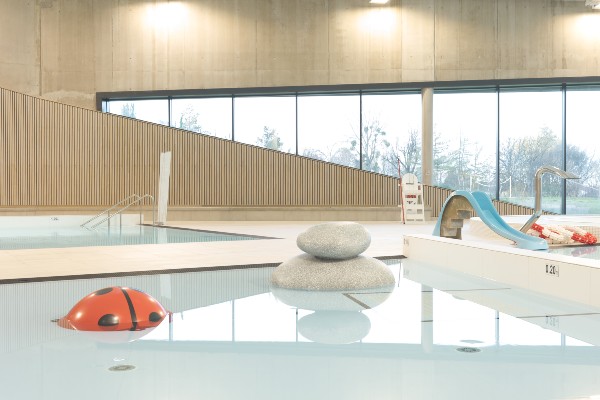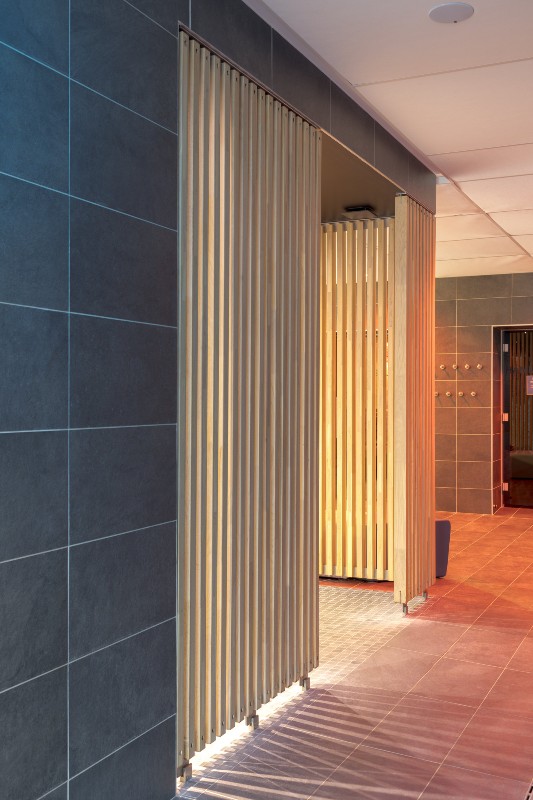 Products used